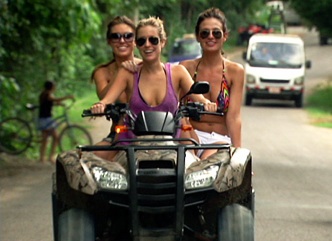 by Michelle Spigner
"Welcome to the Jungle"
On last night's episode of The Hills, the girls and guys head off to Costa Rica in order to get away from all the drama at home, but it seems that there is more drama in the jungle than in the hills.
The gang arrives in the beautiful Costa Rica at an amazing resort. They are staying in the middle of a rain forest in the loveliest little bungalows right on the beach.
Kristin and Stacie hang out on the beach and try to guess who will hook up that weekend. Kristin thinks it might be Audrina and Justin because he is the guy that she has always come back to. Stacie thinks Brody is guy Kristin always comes back to and that something might happen between them. But Kristin isn't so sure. She thinks that she has had false hope this whole time that he may not be one she's supposed to be with.
That night everyone hits the outdoor bar at the hotel and Justin gets extra flirtatious with Audrina. He tells her that he wants to hang out with her the next day and how beautiful she looks. Kristin isn't having the best of luck getting Brody's attention and her hopes for spending quality time with him are starting to fade. Brody barely says a word to her the whole night. Until... Kristin starts to flirt with the bartender. But even still, Brody isn't exactly jealous. He tells he loves her like a sister and is on vacation to meet other people too.
Justin makes an even bolder move on Audrina by grabbing her butt, which doesn't work. Audrina is more offended than anything. Kristin, Stacie and Charlie take a dip in the pool. Kristin is really upset tat Brody only sees her as a sister. She admits to them that she loves Brody and was still hopeful that things would work out between them. Charlie tells her that he knows Brody still loves her too. Kristin doesn't really believe him and is more determined than ever to get Brody's attention.
She goes back to the bar and asks out the bartender, Will, for a date later that night, right in front of Brody. Kristin takes Will out with them and Brody seems quite uncomfortable.
The next morning the girls talk about their crazy night. Kristin had a nice time with Will the bartender and made a date to hang out with him again. Justin has been weird, and Audrina feels like she doesn't know him anymore. They are friendly but she doesn't know if they are friends anymore. The girls leave their jungle bungalow to go to breakfast and pass by some amazing natural sights- monkeys swinging from the trees and crabs crawling across the sand.
As the girls head into the hotel for some breakfast, the boys hit the beach for some surf time. Justin feels like Audrina has some baggage so he doesn't know if he should make a move. Charlie tells Brody about his heart-to-heart with Kristin. He lets him know that if Brody were ever ready to try a relationship with Kristin that she would be up for it. That night Kristin brings Will to dinner with her and the gang and they sit right in front of Brody. She and Will flirt the whole time. Will compliments her and tells her how much he enjoys hanging out with her and so on.
Audrina starts chatting it up with Justin and asks him why things were awkward with him last night. Justin feels she has a lot of baggage from her break-up and he didn't know where his place was. Audrina doesn't feel she has any baggage. She just wants them to be friends like they used to be, but Justin doesn't know how to go back to how things were because so much has changed. Brody catches Kristin at the bar and grills her about Will. Kristin admits that she thinks he's cute, but Brody wants to make sure that as his "sister" she is okay. He doesn't want her to get hurt. Everyone makes a toast to their last night in Costa Rica and they are grateful they could get along. Kristin takes Will off to a romantic spot by the pool where they start kissing and then they leave off into the night. For their last day in Costa Rica, everyone takes a hike to a beautiful waterfall. But the trek up there is a bit of a struggle for the girls who are used to walking down Melrose instead of up a mountain. When they finally reach the waterful, they all have a wonderful time swimming and cliff diving. While everyone is waiting for the private plane to pull up, Justin and Audrina get to talking. Audrina tells him that she had a good time and that Costa Rica is a very romantic place. Justin asks her if she would come again and she says, "Not with you." Completely shooting him down. With that the plane arrives and they all head back to the Hollywood Hills.
The Hills airs Tuesdays at 10pm on MTV.
(Image courtesy of MTV)
For more links on The Hills, visit SirLinksALot.net