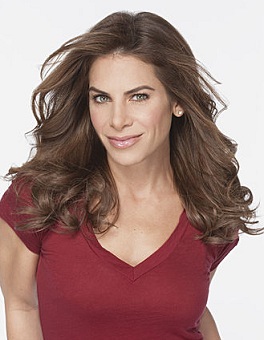 by Gina Scarpa
Earlier this month, The Biggest Loser's Jillian Michaels unveiled her very own weight loss show, Losing It With Jillian. The show, which recently moved to an 8/7c time slot, was about more than just who can lose the most amount of weight in the shortest amount of times. Jillian helps families get down to the root of their problems and change their lives long-term. Tonight, she faces a tough challenge with the Northern family, dealing with a dad who just doesn't want to deal with anything. We caught up with Jillian in an exclusive interview today and talked to her about the show, toning herself down in front of kids, and what she does on her down time... if she even has any!
Q. Gina, RealityWanted: The Biggest Loser has had so much success on tv and has books, DVDs, and even video games. What was the appeal about doing your own show?
A. Jillian: I'm incredibly grateful for the opportunity on The Biggest Loser and I love working with the contestants. The Biggest Loser is not my show and I don't have any input or say on the creative side of the show. I think, for me, I really wanted to get out a broader message of wellness and show people that this isn't about building a better body. It's about building a better life.
Q. Gina, RealityWanted: What was it like to work with entire families, some with young children involved?
A. Jillian: I have a godson that's 8 years old that I spent a tremendous amount of time with. My siblings are 20 and 17. It's not unfamiliar for me to be around kids. I've been very, very fortunate to have great experts, therapists, and MDs that I can turn to for help and advice. I will say that it's challenging when you're dealing with a parent that is dangerously unhealthy and in some cases, their kids are dangerously unhealthy. It's like, "Okay. I have to temper my usual self." I would say that kids are also at very serious risk right now. I try to keep the voice down and make sure not to use any swear words.
Q. Gina, RealityWanted: Your style of training is to break people down physically so you can break down their emotional walls. Why is the emotional part of things so important in their weight loss journey?
A. Jillian: I know that when people are eating themselves into an early grave, and that is what you're dealing with - cholesterol numbers through the roof, apnea, diabetes, cancer. When someone is killing themselves, this isn't, "I had too many margaritas on my vacation." This is someone being self destructive and that's coming from deeper issues. It's about what's wrong, what's broken, and how do we turn these events into triumph and find that fabric of resilience.
Q. Gina, RealityWanted: The show has now moved back to 8pm. Are you happy that it's airing during a time that families can sit down and watch it together?
A. Jillian: I'm so happy! NBC has some sort of fixation with the 10:00 time slot. It's aired three times and they've moved the time three times. We had overwhelming feedback on the internet from people. I had 4,000 comments on Facebook from people saying, "Don't put this at 10." I'm amazed that NBC turned around and moved it. At 10:00, you get a free pass. There's no competition. America's Got Talent has a huge audience and they thought that would be the best thing for the show. I personally am really happy about that time slot.
Q. Gina, RealityWanted: You go back and visit the families a few weeks after leaving them, to check in on their progress. How important is it to you to follow up with the people you've helped and do what you can to make sure these families stay on the right track?
A. Jillian: It's very important to me. We have a system in place and we have an MD who is on the show, Dr. Van Herle. We have a dietician, Cherylu Forberg, that goes out with to meet with the families as well. We have a producer assigned just to make sure they're okay, that they have everything they need. We have a network of approved therapists. We stay in touch with the family and make sure they're doing okay. Even the families that have had their reveals still report back every week. Three of the families will be on my wellness cruise in October. It's nice to know if they need anything, you're there. You can be that touchstone. Everyone knows I'm here but you need to reach out to me. I have 16 new constants on Biggest Loser 10. Throw up your flag if you get in trouble, let me know, and I'll go where the trouble is.
Q. Gina, RealityWanted: Do you ever have any down time? What do you like to do?
A. Jillian: I don't get a ton of down time. I am a person that really loves my work. I love doing what I do. I feel blessed and lucky every day to be able to do it. When I do have down time, I try to see my horse or ride my motorcycle or see my friends. If I go too long without seeing my friends, it's not good. I think we all need to keep the people close and important to us around us as much as possible. I've learned that that's what life is really all about - the connections we form with other people.
Losing It With Jillian airs Tuesdays at 8/7c on NBC.
(Image courtesy of NBC)
Follow Gina at twitter.com/ginascarpa
For more Losing It With Jillian links, visit SirLinksALot.net