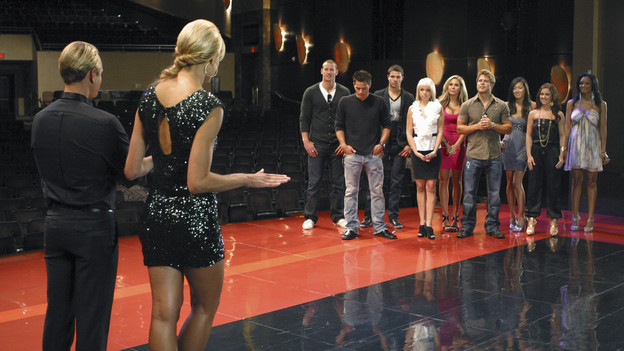 by Danae Young
This week on True Beauty, the fight continues for the "Face of Vegas" title.
Regina was very happy to have survived elimination last week.
There are five girls and only three guys left in the competition. Looks like girls rule and boys drool, eh?
Everyone decided to drink to celebrate Regina's return, but Liz chose to celebrate a little too hard. In Amy's words: Liz + Vodka = Absolute Insanity.
Erika tried to stop Liz from drinking more but Liz was not having it.
The next day, Craig was up working out on the treadmill around 7 a.m. The noise of the treadmill woke everyone from their beauty sleep.
David showed Amy how to make coffee. Poor girl, she is missing a screw or two up there.
This week the contestants made a video where they interviewed people on the streets. After they're done, their video will be shown to a focus group where they will judge the contestants on their performance. The key question in this test: "Will they be able to handle the criticism gracefully?"
It is also important to see if they choose to play fair or cheat. Each contestant was given their interview questions and they were told not to look at them until they met up with their camera crew. Little did they know there were hidden cameras set up in the elevator watching their every move.
David – PASS
Michelle – FAIL
Taylor – PASS
Amy – FAIL
Craig – PASS
Regina – FAIL
Erika – FAIL
Liz – FAIL
All of the girls cheated and all of the guys didn't, maybe girls don't rule after all.
After their interesting interview experience, the contestants went to a room where they watched the focus group discuss their videos through a one-sided window. This is where they are judged on how well they handle the criticism.
Taylor – FAIL
Erika – PASS
David – PASS
Michelle – PASS
Craig – PASS
Regina – FAIL
Amy – PASS
Liz – PASS
All of the contestants went down to the pool when they got back to Planet Hollywood. Once Liz showed up, things went downhill.
Later the judges revealed that Craig received the highest score while Taylor and Liz made the bottom two.
At the final face off, it was the biggest shock of all! Another contestant violated the rules and used a cell phone. So, Taylor and Liz got lucky in Vegas and both got to remain in the competition.
As for Regina, she was disqualified for using her cell phone. Whether she was homesick or not, it is not allowed! The judges revealed the secret to the show and sent her on her way.
Watch all new episodes of True Beauty Monday nights at 10/9c on ABC.
(image courtesy of ABC)
Follow Danae at twitter.com/danaeyoung
For more True Beauty Links visit Sirlinksalot.net