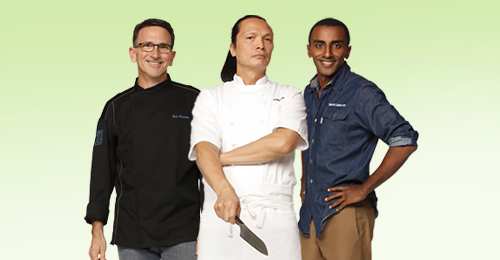 by Chandra Clewley
The season finale of Top Chef Masters Season 2 brings us back to Susur Lee, Marcus Samuellson and Rick Moonen, our remaining chefs. The chefs are talking about the honor of making it this far when they pull up to LA's Union Station and Kelly comes out to tell them about their challenge.  There is no Quickfire, being the final episode, so their challenge will be as follows: Prepare a 3 course meal. The first course will be a dish inspired by their first food memory. The second course will be a dish inspired by the experience that made them decide to become a chef. The third course will be the dish that describes them as a chef. 
The three chefs sit down to lunch to talk over what their first memories are. Marcus associates with Sweden more than Ethiopa since he was orphaned at 3 years old and adopted by a Swedish family. Rick remembers going to the shore with his father. Susur remembers eating dim sum with his father.
For their second courses, Marcus reminisces on his grandmother getting sick. Marcus had to step up to the plate and cook a holiday meal for his family and when they raved about the food, he knew he wanted to be a chef. Rick recalls visiting a friend's house. They served him bacon and eggs, but added cheese and mushrooms. It was the first time that Rick had tried mushrooms and he was overwhelmed with the flavor and how various, exotic and vast food could be. Susur, whose first wife came from Canada, had never had Japanese food before. Right away, he realized that he wanted to try different things with food after tasting Japanese. He also shares that his first wife was killed shortly thereafter so it was poignant to keep cooking.  
For their third course, Marcus wants to incorporate his African roots, and feels like Africa has not been put on the map yet with food, like Italy and France have. Susur and his second wife had several children together and because they are multi-ethnic, Susur finds it important that they know their culture. He took them to Thailand to discover Asian culture and food, and everyone was impressed with the food.  Rick feels like he is always cornered into the fish arena and he is classically trained so he wants to show the judges that good food defines him, not just seafood.
The judges for the final show are James Oseland, Jay Rayner, and Gail Simmons along with Tom Colicchio from Top Chef, and the three Top Chef Masters Season 1 winners, Napa Style Michael Chiarello, San Franciscan Hubert Keller and first place winner  Rick "I love you" Bayless.  Remember the effortless win that Rick Bayless gave us last season? While everyone competed, Rick sailed the Zen-master Mexican seas to the win. I really thought we would see Jedi Master Jonathan Waxman surf in on the same slow, steady wave, but alas it was not meant to be.  Instead, we have three power house and higher wound chefs in the hot seats. Ninja Susur is all over the place leaving a trail of destruction, which kills self-admitted clean freak Rick Moonen. Meanwhile, Rick flies around the kitchen working and cleaning, cleaning and working. Marcus stays away from both, as we have seen during the entire season. Marcus has more to prove to himself than to the other chefs, and his cause, bringing fresh water to African villages is somewhat behind this poignant inner motivation that we have seen in him all season long.
The fist course comes out:
Marcus-Smoked Char with Sweet Horseradish and Shellfish Broth
Rick-Himachi and Live Sea Scallop Crudo, Glazed Kushi Oyster and American Sturgeon Caviar.
Susur-Steamed Scallop with Cantonese Black Bean Sauce and Dim Sum Shrimp and Crab Croquette with Chili Sauce.
The judges say that Rick's oyster was cooked perfectly, Susur's black bean is excellent and the Dim Sum takes you to China. 
The second course is:
Marcus- Salt Cured Duck with Foie Gras Ganache, Sour Tomato Jam and Aged Balsamic
Rick-Braised Pork Belly, Poached Egg with Gnocchi, Parmesan and White Truffles
Susur-Tuna with Wasabi Mousse, Charred Sea Bream, Artichoke, Asparagus and Daikon Salad with Ginger Flavor
The third course is:
Marcus: Berberre Flavored Hamachi Meatballs, Porcini Couscous, and Sea Urchin Broth
Rick- Venison with Espresso Salt, Stuffed Cipollini Onions, Matsutake Mushroom and Brussels Sprouts
Susur-Lamb Thailandaise wit hChiang Mai Sausage, Green Curry and Poltena. 
At the end of the show, everyone just absolutely loves all of the food, but because Marcus did not back down and water down the African food, he takes the win for Top Chef Masters Season 2! Marcus really fought the good fight, so great job Marcus! 
(Image courtesy of Bravo)
Follow Chandra at twitter.com/ChandraClewley
For more Top Chef Masters visit Sirlinksalot.net