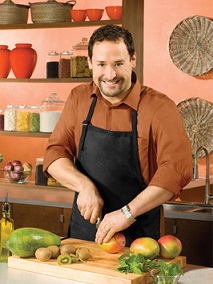 by Gina Scarpa
Last night, on the season premiere of The Next Food Network Star, the 12 contestants were taken out of their swanky L.A. home to compete in their first challenge. Not only did they have to prepare a dish that summed up who they were, but they had to explain that point of view on camera. From there, it was on to film a 15 second promo and compete in a group challenge, serving a 6 course meal to Wolfgang Puck. Alexis was unable to show his personality on camera or deliver an impressive dish and became the first chef eliminated. Today, he spoke to RealityWanted about his experiences on the show and why he's more motivated than ever to share his love of cooking with the world.
Q. Gina, RealityWanted: Have you watched previous seasons of The Next Food Network Star?
A. Alexis: I have watched The Next Food Network Star since the first season. I originally spent my adult life in Chicago so when the two guys from Chicago were on there, I started watching it and I was hooked. I watched every year and even after the episodes aired, I would watch the clips online.
Q. Gina, RealityWanted: What made you want to try out for the show?
A. Alexis: I wanted to try out because I enjoy cooking and I love the science of food. I kind of wanted to bring to the home cook, some little science things that happen when they're cooking so they can be more confident. They don't have to follow a recipe or think to themselves, "I can't make that because I don't have red wine vinegar." Knowing the science, they can probably still make that recipe. That was why I wanted to be on the show.
Q. Gina, RealityWanted: When did your interest in cooking first begin? Did you love it as a child or was it something that developed as you got older?
A. Alexis: My family is Cuban, and I think all Cubans know how to cook. My sister cooks, my brother is a big cook. As I got older and got my own apartment, I wanted to entertain. It's like a status symbol. I started out reading a lot of recipes and mastering certain dishes and then most recently, in the last 4 or 5 years, I moved from Chicago to our family farm with my partner in Indiana. I left my corporate job in Chicago because my partner has notified me that his mom was dying. I went to the farm and culinary school. After I got out, I started growing different things - tomatoes, strawberries, lettuces, and learning different foods.
Q. Gina, RealityWanted: How important is it to use fresh, organic ingredients?
A. Alexis: I think it's a very satisfying experience if you grow something. I think when you go out and you tend to something in the garden and you take care of it, it needs you to grow. It needs water, it need pruning. To me, I think the food tastes better than if you go to the store and buy it. One of the important things about buying organic or local and seasonal is that the food always tastes better. Having a tomato in December won't taste as good as if you buy it in July or August when it's in season.
Q. Gina, RealityWanted: The minute you arrived at the house, the contestants were whisked off to their first challenge. How intimidating was that?
A. Alexis: I felt a little nervous. It was just so fast. We get to the house and immediately there's a challenge. We're introduced to this fantastic kitchen. It was just fast. I think for anyone it was nervewracking. You're in front of Bobby and Giada and Susie and Bob, there's cameras everywhere. I've never been in a tv studio so to be there with these people that I see on tv that are going to judge me, that's a hard order to fill.
Q. Gina, RealityWanted: How tough was it when Wolfgang Puck criticized your dish?
A. Alexis: Working in the group was fun but yes, Wolfgang, to me, is the person who started the whole celebrity chef thing. It's unfortunate. I didn't want to go home but somebody has to go first. I didn't wake up and think, "I want to go home first." You know, it was unfortunate. I didn't plan on making them raw. I'm sure nobody on the show thought, "Today, I'll make the chicken raw." It's things that happen. It was difficult to hear because I wanted to impress Wolfgang! How many people get to cook for Wolfgang Puck? It was emotional and I was so disappointed, which was apparent in the episode.
Q. Gina, RealityWanted: Who stood out to you as a contestant that would be your biggest competition?
A. Alexis: I will tell you this. Everybody on The Next Food Network Star does know how to cook! They didn't just pick random people off the street. The process to be selected was very arduous and thorough. Everybody on there knows what they're doing. It's just what will go wrong while you're doing the challenges. That's going to be the defining factor.
Q. Gina, RealityWanted: Despite going home first, do you still want to be on television?
A. Alexis: Yes! I do! I'm a teacher at heart and I would love to be able to teach people at home all these little tricks and the science of food so they can be freer and more powerful at home. As a culture, we go out to restaurants. For me, my parents showed me how to cook but people are busy - they work, they don't cook. I am going to continue this. Being on the show solidified my love for food and my love for wanting to go teach people. This made me want to do it more.
The Next Food Network Star airs Sundays at 9/8c on Food Network.
(Image courtesy of Food Network)

Follow Gina at twitter.com/ginascarpa
For more The Next Food Network Star links, visit SirLinksALot.net