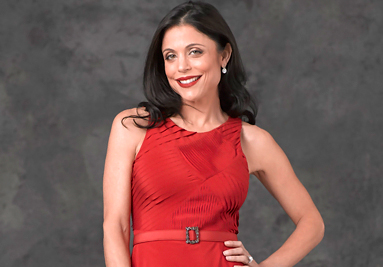 by Chandra Clewley
In one year, Bethenny Frankel has  introduced us to her new boyfriend, become engaged, become pregnant, gotten hitched, had a baby, released a New York Times bestselling book, taped a new television show entitled Bethenny Getting Married? all while keeping tongues wagging on The Real Housewives of New York City. Reality Wanted sat in on an interview with Bethenny today to find out all about her new show Bethenny Getting Married?, where her relationship is with Jill Zarin, how she feels about the Kelly Bensimon breakdown in St. John's, and  her future as a Housewife.
Q. Chandra, RealityWanted: How do you plan on juggling all of your projects with having a baby and staying at home?
A. Bethenny: The good news is that my office is at my house so that checks one thing off. The next thing is that a lot of my business is my TV shows so they shoot my life, so if I am in my house I am in my house, they follow me. My first book I am editing now, so once that is finished that is grown up. It's hard. I am not Julia Roberts; I haven't been successful for years and have time to take off for Phinnaeus and Hazel. 
Q. Chandra, Reality Wanted:  What were your thoughts about Jill Zarin announcing the birth of your child on Twitter before anyone else, and saying that it was a boy?
A. Bethenny:  Honestly, she can't get out of her own way. It's wasn't like she had to pick the winner of the Kentucky Derby. All she had to do was go 50/50 and she still didn't get it right. 
Q. Chandra, Reality Wanted: People like Kelly Bensimon and Dina Manzo (via Twitter) have called you scary. How do you react to people calling you "intimidating" or "scary"?
A. Bethenny: Kelly has this whole nonsense bullying angle that she is working right now, which is like idiotic; she is a 41 year old woman. So, anything she says, you can't really even listen to cause she is out of her mind, um, and certifiable, but Dina is really sweet and Dina is a really nice girl that doesn't get into the fray and she is a really sweet, nice Jersey girl so I think I could see me being a little bit scary. I grew up at the racetrack, and I am a little street and a little rough around the edges and a scrapper, so I get it.
Q. Chandra, Reality Wanted: Your books have had enormous popularity. Have you ever struggled with your own weight? Have you ever had any weight issues?
A. Bethenny:  I used to be a yo-yo person and I used to be completely obsessed with dieting.  I used to always be on a different diet, up and down, I call is "white knuckling it" and "food noise". That is what my book Naturally Thin is about. I learned how to become naturally thin and how to never have to diet again. I really learned how to overcome what was such a huge struggle. I never had an eating disorder, per se, although I think it is an eating disorder to be so obsessed.
Q. Your show (Bethenny Getting Married?) has more humor integrated into it (than Real Housewives of New York City). Is this something you did intentionally?
A. Bethenny: In my life (Housewives) doesn't show me in my true life. You see bits and pieces of me, and you get the sense of me, but really I am not a woman that really hangs out with a lot of women. I focus more on work, and when in a relationship, on that relationship. So, this kind of gets more micro and gets into the details of my life. There are no big blow outs at cocktail parties or charity events. I don't really go out that much and I am pretty much home in my pajama's most of the time. 
Q. Is this show more dedicated to your personal or professional life?
A. Bethenny: It's more dedicated to the struggles I go through being 39, getting engaged, getting pregnant, doing everything backwards, being pregnant at my bridal shower, and now that I have a baby I am doing the baby shower. It's more about a discussion that Jason and I have getting me to the wedding, shopping for a wedding dress at 6 months pregnant.
Q. Are you integrating other cast mates of The Real Housewives of New York City into your show to make appearances? Will Jill Zarin be on the show?
A. Bethenny:  It's only to the extent that this is really going on in my life. No one is being hired. It's like, I invited Alex to my bridal shower and she came, I invited Ramona and she was out of town.  It's nothing orchestrated, there is no drama, no fighting. Jill is not on my show, because Jill is not in my life. 
Q. Has Jill reached out to you recently?
A. Bethenny: No, not recently. Of course I saw her at the Reunion Show and she has reached out a couple times in that last few months. There have been a lot of changes on the show and has showed everything, but she is not in my life anymore and this is the time that I want people that are good for me, and good for my family. I want clean energy and everything to be happy and I want Bryn's life to be perfect for as long as it possibly can. 
Q. There are rumors that you are pulling out of Real Housewives. Is this why?
A. Bethenny: I think, yeah, I don't believe in staying at a party too long and I don't know what there is left to do there. If I had a smaller part in it and I dipped in and dipped out maybe (I would stay on the show), but what do I have to say to Jill? There is nothing to say to Jill, she had a nervous breakdown on my show. I see Alex and Ramona on my show which is really nice and pleasant so I don't know, the purpose I am on the show is to comment, so if they still need my running commentary, perhaps I will do it. You see my life here so I don't know what I would be doing there. 
Q. What was more painful, labor or your trip to St. John's with Kelly?
A. Bethenny: That is the best question of the year! By far, St. John's and I am not just saying that for effect. By the way, the C section was less painful than being away with Kelly. It was horrendous. 
Q. Would you consider yourself a Bridezilla during the whole process?
A. Bethenny: No, I wouldn't. I mean, other people said I wasn't even in moments when I thought I was. I do sweat the small stuff but that goes with everything.  I am probably a Bridezilla in my life. I don't sweat the big stuff in the wedding, just the dumb stuff.
Bethenny Getting Married? premiers June 10th at 10/9 c on Bravo
(Image courtesy of Bravo)
Follow Chandra at http://twitter.com/ChandraClewley
For more reality tv links, visit SirLinksALot.net