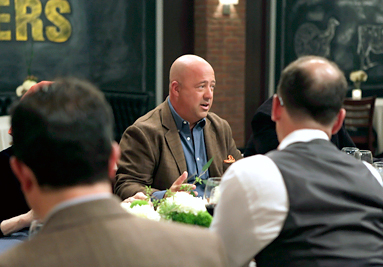 by Chandra Clewley
Tonight's episode of Top Chef Masters Season 2 begins with the 7 remaining chefs: Susur, Rick, Jonathan, Susan, Marcus, Tony and Jody.  The Quick Fire challenge starts immediately, the chefs will be cooking while channeling The Simpson's for Matt Groening, Matt Selman and Hank Azaria. They have 45 minutes and each one draws a knife to find out who they will be channeling.
Susan get's Moe the Bartender and puts together Millet Crispy Treats with Peanut Butter Chips, Donuts and Mexican Hot Chocolate. The judges think that this would be Moe's happiest moment in life.
Tony gets Chief Wiggam. He makes Fried Bacon Honey Pizza Dough with Boozy Coffee and the judges wish they could taste the bacon more, but unfortunately during the cooking prep, Susur dumped Tony's bacon fat so he couldn't add more.
Susur, who is totally unfamiliar with The Simpsons, channels Marge. He creates a rendering of her on the plate with Purple Potatoes, Pan Roasted Pork Chop and Glazed Grapes with a Mustard Sauce. The judges say Marge would love the creativity.
Rick gets Homer and makes Shrimp "Sloppy D'Oh!" with Truffle Chips and Beer. The judges think Homer might love the food and then be mad that the Sloppy Joe has shrimp in it.
Jody gets Lisa and creates Cracked Wheat Salad with Goats Milk Ricotta, BBQ beets and baked kale chips because Lisa is a conscious eater and a vegetarian. The judges think Lisa would love the dish.
Marcus has Apu, and creates an Indian meal with Tomato Soup with Rice, Chickpeas, Chutney, Melon and Nuts. The judges feel it is authentic but think that Apu has a tendency to hide his origin.
Jonathan channels Bart and makes Spaghetti Bambino with Grilled Tomato, Ham and Cheese Sandwich. The judges love the food and say it is the dish that would unite Springfield.
 All in all, Rick takes the win.
For the Elimination Challenge, we are brought back to the Exotic Foods Surf and Turf and Rick gets to pick first since he won the Quick Fire. They will be cooking for Andrew Zimmern of the television show Bizarre Foods and a few guest bloggers who are privy to exotic foods. ALL of the chefs are out of their element and cooking off the cuff.
Rick chooses Monkfish Liver and Black Chicken. He turns out a Poached Black Chicken Mousse and Roulade, Monkfish Liver Torchon, and Buttered Leeks. Andrew thinks it is stunningly executed.
Tony picks Jumbo Squid and Goat Leg. He presents a Crostino with Calamari Inzimiono, Braised Goat Sauce, and Goat Cheese Ravioli. Andrew says it is beautifully balanced.
Susur goes third and picks the same two proteins as Rick, which is intimidating to Rick since both of the proteins are typical in Asian cuisine. Susur creates a Poached Monkfish Liver, Black Chicken Veloute, and Black Chicken with Monkfish Liver. The judges say it tastes great and they really taste the monkfish.
Jody picks next and ends up with Goat Leg and Geoduck. She attempts to slow roast the Goat Leg which is extremely tough. She serves Sicilian Spiced Roast Goat, Geoduck and Chickpea Chowder and Homemade Marissa. The judges say the goat is too rare still but the chowder turns it on its side and is very good.
Marcus picks Geoduck and Kangaroo and creates a Geoduck and Kangaroo Sausage, Geoduck with CousCous, Geoduck and Kangaroo Tartare but the judges think there is too much on the plate and the flavors are too intense.
Jonathan is second to last and completely disillusioned with the challenge. He picks the Giant Squid and Duck Tongue. He says it isn't his cup of tea and when his dish is serves he feels his mood is on the plate, a big mess and he is depressed. He offers up Giant Squid Fritto Misto, Friend Duck Tongue, and Fideo with Duck Tongue. The judges say that is the best duck tongue they have had in a long time.
Susan goes last, and picks Sea Cucumber and Kangaroo. She has never prepared Sea Cucumber and decides to wing it and presents it two ways: Marinated Sea Cucumber, Fried Seas Cucumber, and Kangaroo with Juniper Sauce. The judges think the dish is delicious but too ADD.
The winner of the challenge is Susur. Jody's rare goat leg gives her the lowest score and she goes home.
Don't miss next weeks Episode of Top Chef Masters Season 2, Wednesday 9/10 c on Bravo.
(Image courtesy of Bravo)
Follow Chandra at http://twitter.com/ChandraClewley
For more Top Chef Masters Links visit Sirlinksalot.net