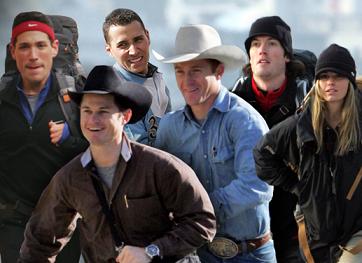 by Gina Scarpa
Tomorrow night, the final three teams will make their way to the finish line on the season finale of The Amazing Race. It all comes down to Jet and Cord, Dan and Jordan, and Brent and Caite. Here are my predictions for how those three teams will finish, along with predictions from fellow RealityWanted writer Vin Convertito and our reality writer, Sam McMillen of The Amazing Race 15.
VIN'S PREDICTIONS
3. Dan and Jordan
As much as I like these two fellows, I fear they do not have the intensity needed to rival Jet and Cord and for some strange reason, Brent and Caite keep harassing and bickering their way through the race. Dan and Jordan have gotten lucky several times and have made it very far, but I just can't see them going the distance. And if they do, it was not because they were the best team. It would have to be a matter of dumb luck.
2. Brent and Caite
Oh how I wish that Brent and Caite had quit each time that they claimed they were going to; or that they were eliminated for complaining about how "stupid" everything was upon being penalized for something. Whether it is Brent telling Caite to "shut up" or Caite letting Brent know he is acting like a baby, the two do not embody any sort of team spirit or characteristics belonging to winners. It is safe to say that I detest the two models for their behavior, their words and their ridiculous sense of entitlement! My only solace comes from knowing that soon enough Brent and Caite lose to the epitome of a class act and that Jet and Cord will defy the adage that nice guys finish last.
1. Jet and Cord
The best team, from day one, has got to be Jet and Cord. They have worked so well together and have clearly outperformed every other team. They are fast, they are smart, they are strong and most importantly, they are positive! Jet and Cord are role models. They are respectful, thoughtful and diligent in every way. They are the classic underdogs as well; they are the small town country boys that were more likely to have been swallowed whole by all of the large cities and culturally intense locations that comprise the race. But through it all, Jet and Cord have smiled their way to the top, winning a handful of legs along the way.

GINA'S PREDICTIONS
3. Brent and Caite
I will admit that the models stepped up their game as the race went on but the final leg is always the toughest and these two are known to crack under pressure. Now, the same goes for Dan and Jordan but I'll get to them in a minute. When the going gets tough, Brent and Caite get going on each other and teams needs to work together in order to win this race. I am happy that they proved something to the other teams by making it this far, but I think third place is where they'll end up.
2. Dan and Jordan
It's going to be a great moment for Jordan when he lives out his dream and crosses the finish line of The Amazing Race, though I'm sure it would be better for him and his brother if it was for the million. These two have cracked under pressure more than once, completely melting down. They would need to stay even keeled throughout this last leg in order to win and, much as I love them, I don't think that's going to happen.
1. Jet and Cord
To me, Jet and Cord have been the strongest team by far for a few reason. They have great attention to detail, they work quickly to complete their tasks, and most important, they always remain CALM! Their laid back Southern attitude mixed with their competitive spirit and quick wit has made them fantastic to watch this season and nothing would make me happier than to see them be the first team to cross the finish line.

SAM'S PREDICTIONS
3. Brent and Caite
The dating models have definitely been on a hot streak lately, and their practicality skills are shockingly on point, but I can see them running into a few problems in the finale. I'm glad Caite was able to prove herself by making it to the finish line, and I think that will still be accomplished even with a 3rd place finish. They've done really well as of lately, but the consistency of The Cowboys and the determination of The Brothers will be insurmountable for the dating couple.
2. Jet and Cord
I definitely feel like this season is going boast an upset at the finish line. Jet and Cord are the obvious favorites, with their several first place finishes and consistent top three placement. I feel like that's how they'll run the finale and that's why they'll be runners-up. When they reached the mat and Phil told them they were in the final three, they barely even reacted. As someone who's heard that news, it's pretty much the climax of The Race and I almost collapsed in joy when it happened for me. I think they'll be a close second, but second nonetheless. If I'm right, there will be a lot of bummed out viewers this weekend. Despite their immense popularity and successful race so far, I'm predicting our sad little "first losers club" will be gaining some rodeo flair come Sunday.
1. Dan and Jordan
UPSET BABY!! I think Dan and Jordan are the most determined, the most passionate and the most invested in winning The Race. They don't have the best track record so far in terms of finishes, but they haven't necessarily shown significant amounts of weakness either. Here's how you win an Amazing Race finale: you put everything you have out there, take the big risks and throw caution to the wind. That's what lost is for Dan and me. Jordan's loveable personality along with his older brother's concern for the fulfillment of his younger brother's dream are a recipe for a likeable winning duo. Who doesn't love an underdog? Let's bring the win back to the siblings!
Don't miss the finale on The Amazing Race, tomorrow night at 8/7c on CBS.
(Image courtesy of CBS)

Follow Gina at twitter.com/ginascarpa and Sam at twitter.com/sammcmillen
For more Amazing Race links, visit SirLinksALot.net