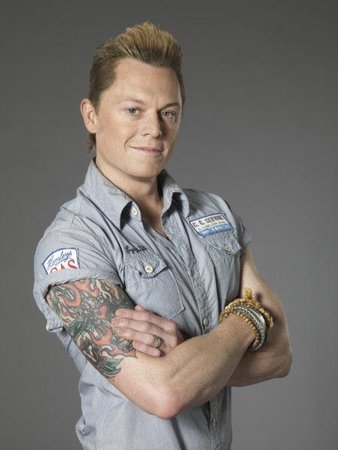 by Chandra Clewley 
Matthew Morris has been involved in editorial fashion hairstyling for over 14 seasons while still running the Matthew Morris Salon in Colorado. Matthew was the 2nd runner up on the Shear Genius Season 3 finale last night, but most fans thought he was going to take the win. Reality Wanted had a chance to get the truth out of Matthew today when we caught up with him at his salon.
Q. Chandra, Reality Wanted: What inspired you to be on Shear Genius Season 3?
A. Matthew: Shear Genius called me and told me it was going to be a great season and talked me into it.
Q. Chandra, Reality Wanted: How did you feel when you got there and sized up your completion?
A. Matthew: It was great. I am a very confident person so I wasn't freaked out. The only thing I was worried about was going home first. No one wants that. I think the dream team would have been Janine, Faatemah and I. I don't want to compete against bad stylists; I wanted to win against the best.
Q. Chandra, Reality Wanted: After your first challenge, how did you feel about the judges and the judging?
A. Matthew: That's a loaded question. I think that most of them probably have some clout but I felt like maybe Camila shouldn't have been a judge. And then Jonathan, he hasn't done that much work lately, I don't know I just felt like they were there for great sound bites and critiques but the guest judges to me were the most important ones.
Q. Chandra, Reality Wanted: Did you know who all of the guest judges were? Was there one that you were really impressed by?
A. Matthew: Absolutely! 100%! Linda Wells (Allure Magazine) was definitely the one I wanted to impress the most so I was really glad that I won that challenge. Oribe of course! The most important person of the entire show, who was very underutilized, was Orlando Pita. He is like THEE KING of hair. He is such a prominent figure and was underused.
Q. Chandra, Reality Wanted: What was your favorite challenge? What was your least favorite challenge?
A. Matthew: I would have to say the barn with the romantic novel challenge. First of all, I won. Second, I loved being outside on location, that is my element. My least favorite challenge was the geometric haircut challenge, I woke up in a terrible mood and I didn't like my model. 
Q. Chandra, Reality Wanted: How challenging are the models and how much does that have to do with the challenge?
A. Matthew: I am very good at having a good consultation with the client and I can talk someone in to doing something that they would not normally do. It's hard with this type of a competition because the only way that anything is going to be fair is to do the exact same thing on a person. But we don't have a bunch of clones so it's impossible. It's just part of the business; you just have to deal with what you get.
Q. Chandra, Reality Wanted: Were you and Janine really Wonder Twins?
A. Matthew: For sure, we are going to Disneyland this weekend. She and I think we have won, Brig doesn't exist and it doesn't register. 
Q. Chandra, Reality Wanted: What are you working on next?
A. Matthew: I am developing my own product right now, a revolutionary idea that is true to me, which is beautiful, shiny, wearable organic hair. I am continuing my editorial stuff too.
Q. Chandra, Reality Wanted: What are the current trends right now in Matthew Morris salon?
A. Matthew: Our hottest thing is deep conditioning treatments and Brazilian Blow Outs. 
(Image courtesy of Bravo)
Follow Chandra at twitter.com/ChandraClewley
For more Shear Genius links, visit SirLinksALot.net