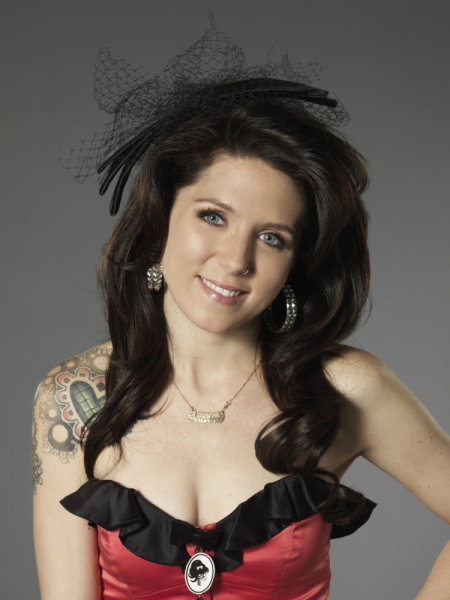 by Chandra Clewley
Janine Jarman from Shear Genius Season 3 started experimenting with hair when she was 14 years old. Soon after graduating high school she enrolled in beauty school and the rest is history. Janine has styled a handful of famous celebs and when not flying around to photo shoots, she runs her salon Hairroin in Hollywood. Here is what Janine had to say to Reality Wanted about last night's unexpected finale.
Q. Chandra, Reality Wanted: Tell me what inspired you to be on the show?
A. Janine: I really just wanted to do something different, it was one of those opportunities that was posed to me and I thought there weren't that many things that allow you to compete in this industry.  I was really interested because I am pretty well rounded as a stylist goes and I thought I had a pretty good chance. Plus, I was really excited to do something that my stylists could look back on and say "You know what, that's my boss and she does pretty good hair."
Q. Chandra, Reality Wanted: Would you say that you and Matthew really were "wonder twins"?
A. Janine: I don't know what a Wonder Twin is, I have never seen that show! As far as our talent goes and how we were evenly matched, I really bonded with Matthew early on because I respected how great of a hairdresser he is.  I made it a point my entire career to align myself with people that I admire cause you can only grow from that.
Q. Chandra, Reality Wanted: How factual was the drama between Brig and yourself?
A. Janine: Ummm….kind of. Definitely she drove me nuts, but not just me! That was the funniest part! I thought she drove everyone nuts. 
Q. Chandra, Reality Wanted: How do you feel about the way it ended?
A. Janine: I'm happy that I took second place; I would have liked to come second to Matthew to be perfectly honest.  It's nothing against Brig's character, but he truly is a much more skilled hairdresser. He works harder and has really honed in on his craft. I would have been ecstatic to come in second to him and it was a little frustrating to come in second to her. But you know, she really wanted to win and it's hard not to be happy for someone that wins. 
Q. Chandra, Reality Wanted: What was the most fun challenge? What about the most challenging?
A. Janine: I really liked the teenage girl challenge. My salon volunteers at the Los Angeles Youth Network.  I am the oldest of five kids so I have a bunch of teenage sisters. That has always been something close to my heart, inspiring young girls and being a good role model. I really struggled in the 1940's hair challenge which is ironic because that's normally where I am pretty skilled with vintage hair. I always do it with a curling iron, and I guess I misunderstood the challenge because I thought we had to start it with a traditional wet set and being 2010 I don't do a lot of wet sets. 
Q. Chandra, Reality Wanted: Who do you keep in touch with from the show?
A. Janine: Faatemah, Jon, Brian and Amy. Of course Matthew, I talk to him almost every day! He is coming to stay the weekend with me because my little sister and his niece are in a cheer competition together, competing against each other! 
Q. Chandra, Reality Wanted: What is the next step for you?
A. Janine: I have a beautiful salon and I am always growing. We have a big focus on education and I am trying to expand that program.  I also am a spokesperson for Sebastian products now too. I have never been one to keep still anyways.
Q. Chandra, Reality Wanted: Tell me about your salon and what are you seeing the most right now?
A. Janine: The salon is called Hairroin Salon in Hollywood. Right now we are seeing a lot of long hair, Balayage and extensions. Balayage is a hand painted highlighting technique, think of Giselle's hair with light roots and then trailing off to a lighter, sun kissed look. 
(Image courtesy of Bravo)
Follow Chandra at twitter.com/ChandraClewley
For more Shear Genius links visit SirLinksALot.net