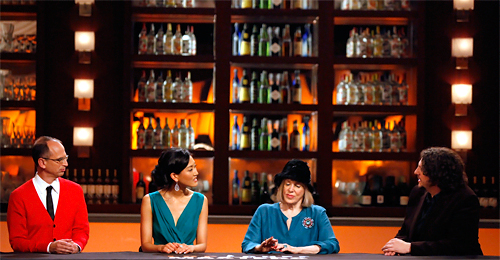 by Chandra Clewley
Tonight's Season 2 Premier of Top Chef Masters starts out with an introduction from Kelly Choi. We find out that not only are there new chefs, but there are several first season alumni returning to try at it again.
On tonight's episodes there are six chefs vying for two open places. The chefs are: Govind Armstrong, Ana Sortun, Jerry Traunfeld, Tony Mantuano, Jimmy Bradley and Susan Fenigar. 
For the quick fire challenge all of the chefs are split into pairs. Tony is nervous when he gets paired with Susan who is funny but he questions her seriousness. Govind and Jimmy are paired, while Ana and Jerry are matched up. The pairs will be going to Chinatown in LA, to go shopping for ingredients for their first challenge. When they pull into a gas station in Chinatown, everyone knows they were just taken for a ride. The challenge will be to select ingredients from a gas station store to make into a gourmet dish for their guest judges, The Bravery. Jimmy and Govind joke that they should make them cat food tartar.
Tony and Susan create a bread pudding, while Jimmy and Govind decide on a Cheetos macaroni with grilled slim jims and are taken by surprise when they open up the Cheetos and discover they are of the "Flamin' Hot" variety. Lastly, Ana and Jerry work on a Rice Cake with a"Clam"esco sauce, incorporating Clamato.
At the tasting, The Bravery is served. First, they try Susan and Tony's Maple Bread Pudding with Carmelized Banana's. They seem to like it but it is sweet. Govind and Jimmy present a Cheetos Macaroni with Grilled Slim Jims and Tomato Soup dish. The band is a little critical for being served Flamin' Hot Cheetos and Slim Jims. For the third dish, Ana and Jerry serve a Crispy Rice Cake with "Clamesco" sauce. One of the members thinks that the food is a little bland. Jerry thinks that it is because they are used to a high salt, high fat diet.
Tony and Susan take the Quick Fire win and take $5000 each for their charities.
Now, for the elimination challenge. The chefs will be staying in teams and they are all a little disappointed although both from the winning team will go forward and win $10,000 for their charities. They will be cooking a romantic duo dish for 30 couples on their first dates. 
Tony and Susan have no similarity in cooking styles. Ana and Jerry are excited because they have similar sensibilities. Govind is nervous too, even though he likes Jimmy, he thinks it is every many for himself.
Ana and Jerry are incorporating duck and floral elements because they feel that is romantic. Ana is doing a crispy duck leg, 
Govind and Jimmy are doing a duo of lamb. One will be a Carpaccio while one will be served hot. Jimmy decides to sear the lamb since he isn't sure if the people will eat raw lamb. 
Tony thinks Susan is very creative which complements him. Tony is rolling his own pasta. Susan is trying to be cautious of over cooking the food because it needs to come out hot. 
The food goes out for the judges. Govind serves their plate: Seared Lamb Carpaccio with Baby Arugula and Herb Salad, and a Roast Chop with Cauliflower Couscous and Pomegranate Reduction. The judges like the food and think that the pairing played off of each other well.
Jerry serves the next teams dishes. First, a Lavender Duck Breast with Red Cabbage, Pomegranate and Beets. Then, Ana's Duck Leg in Vermicelli with Orange Blossom smoked Cinnamon Almonds.  The judges love Jerry's sauce, they think it is very romantic, and done well. Ana's spicing is delicious, but they don't think that you can eat it elegantly. They don't feel the dishes match in eloquence. 
Susan brings up the rear serving Black Pepper Shrimp and Scallops first, and then Homemade pasta with Cheese, Mushrooms and Truffles.  The duo seems to work because both of the plates are intense. 
At the judges table the judges seem to really love all the food. 
Ana and Jerry receive 15 stars
Jimmy and Govind receive 12 ½ stars so they are out of the game.
Tony and Susan receive 16 stars and take the win to move on to the champions round.
Top Chef Masters airs Wednesdays at 10/9 c on Bravo.
(Image courtesy of Bravo)
Follow Chandra at twitter.com/ChandraClewley
For more Top Chef Masters Season 2 links visit SirLinksALot.net