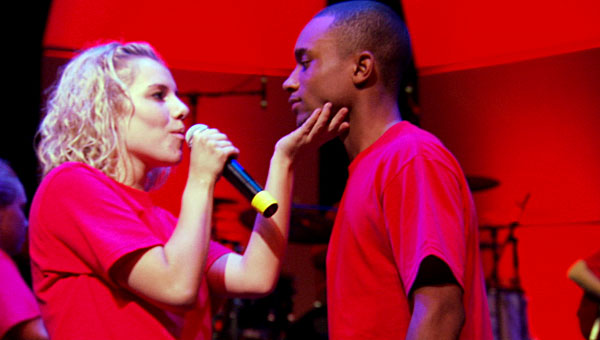 by Danae Young
This week on Taking the Stage, Tyler auditions for Stomp the Yard 2 and everyone prepares for the "13th and Broadway" show.
Tyler has a huge audition coming up for the movie Stomp the Yard 2 and he is worried about his relationship with Emily Silber.
Emily Sones invited Ian to the "13th and Broadway" show as her date. She also told Ian about how Adam doesn't think she should be dating Ian.
Adam told his friend Kenny that he wants to impress Emily Sones when he performs in "13th and Broadway."
Tyler talked to Emily Silber about their relationship. She doesn't want to take a break if he is casted in the movie, but Tyler looks like he feels differently.
Tyler went to the auditions in Atlanta and got really nervous after seeing his competition. They only need 17 male dancers for the movie which brought a lot of pressure to everyone trying out.
Tyler made the call backs and then found out he is also being considered to say lines in the movie!
Emily Silber told Adam about her concerns with Tyler and their relationship. She doesn't think Tyler is as committed to their relationship as she is.
At call backs, Tyler had to read a few lines and freestyle dance. It looked like the director loved it! Tyler had to go straight back to school to practice for "13th and Broadway." First he wanted to tell Emily Silber about what happened at auditions and how excited he was. Unfortunately Emily seemed more concerned that he would be leaving her rather than being excited for Tyler, which seems pretty selfish of her.
Emily Silber had a tough time performing to her fullest on stage with Tyler during "13th and Broadway."
Adam sang a song with the lyrics, "Is she really going out with him?" This made things incredibly awkward considering Emily Sones and Ian were in the front row and Adam was staring at Emily the whole time. Ian noticed this, of course, and approached Adam after the show because he felt it was incredibly disrespectful. Adam didn't seem to think there was anything wrong with what he did.
Watch all new episodes of Taking the Stage Thursday nights at 11/10c on MTV.
 
(image courtesy of MTV)
 
Follow Danae at twitter.com/danaeyoung