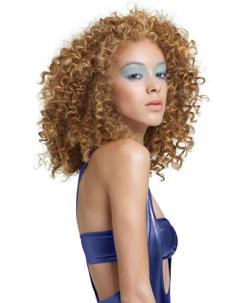 by Gina Scarpa and Michelle Spigner
Last night, on America's Next Top Model, the girls were thrown for a loop when they found out that two of them would be eliminated. For the first photo shoots, the models had to pose mostly nude, with just one item of clothing. Gabrielle was given sequin leggings but Jay felt that wasn't modeling from head to toe and making the most of her time in front of the camera. She was the first to go and today, spoke to RealityWanted in an exclusive interview about her experiences on the show.
Q. Gina, RealityWanted: Where did your interest in modeling begin?
A. Gabrielle: I was always looking in magazines and seeing these beautiful women doing what they loved doing. Being in front of the camera was always something I wanted to do.
Q. Gina, RealityWanted: What made you decide to try out for Top Model this season?
A. Gabrielle: I was with an agency but it closed down. I wanted to get my face back out there and I was truly passionate about doing something.
Q. Gina, RealityWanted: How did it feel to have no control over your makeover and how you were going to look?
A. Gabrielle: I truly did not mind. My hair grows so fast. I was like, "You can cut it, shave it, make me look like Dennis Rodman." If hair makes you somebody, then you're very materialistic. It took me time to get used to it but I love it now.
Q. Gina, RealityWanted: You showed Jay that you had a lot of knowledge when it came to the fashion industry. Did you study that before going on the show or is that just an interest of yours?
A. Gabrielle: It wasn't for the competition. It's always been an interest to me. I always studied it.
Q. Gina, RealityWanted: How did you get along with the other girls?
A. Gabrielle: I got along with just about everybody. When I'm in a big crowd of people, I closed off a little bit so maybe that had an impact but I got along with everybody.
Q. Gina, RealityWanted: What was your reaction to the nude photo shoot?
A. Gabrielle: My brain was blank. You're trying to cover yourself because you don't want people to see certain things. Having to keep that in mind does have an impact because, in shoots, you're not worrying about what's being shown.
 
Q. Gina, RealityWanted: Did you agree with what the judges had to say?
A. Gabrielle: They were critiquing me and I took that in,. I'll make sure I work on things like not showing my neck. I think I was given the short end of the stick which I think always happens with the first girl that gets eliminated.
Q. Gina, RealityWanted: What did you learn most from your experience on Top Model?
A. Gabrielle: I think I changed. It made me grow and made me more wise. I learned not to really care what people say, especially what the blogs say. You have to be comfortable with yourself if you're going to go far.
Q. Gina, RealityWanted: What do you want to do now?
A. Gabrielle: I was so distraught and shocked when I was eliminated. I would probably continue modeling for a while and then go back to school. Number one, school is a must because I want to be educated. I want to go to FIT and pursue fashion merchandising and then go to business school.
America's Next Top Model airs Wednesdays at 8/7c on the CW.
(Image courtesy of the CW)
 
Follow Gina at twitter.com/ginascarpa