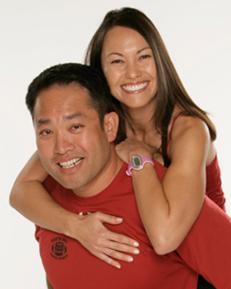 by Gina Scarpa
On last night's episode of The Amazing Race, the teams were given the opportunity to U-Turn somebody else. That means that the team that receives the U-Turn must complete both Detours before moving on. Louie and Michael, who were in first place, targeted Joe and Heidi, who were close behind them. Joe and Heidi were faced with a morse code challenge that proved too difficult and were eliminated from the race. Today, the couple spoke to RealityWanted about how seriously they took the race, their alliance with Steve and Allie, and their feelings about the way they went out.
Q. Gina, RealityWanted: Whose idea was it to try out for The Amazing Race and how did you end up becoming a part of the show this season?
A. Joe: We were approached with the opportunity to go on the race. We applied like everyone else did competing with all these teams. We're honored that the race selected us
Q. Gina, RealityWanted: How did you feel leaving your family behind to go on the race?
A. Joe: That was one of the biggest challenges. We have close family. My mom was helping us with the kids.
Q. Gina, RealityWanted: Did you do a lot of preparation before the show?
A. Joe: We did a lot of endurance things like jet skiing, parasailing, rock climbing.
A. Heidi: Joe and I took this really seriously. We trained, we went running 3 times a week before the kids woke up for school. I got lasic eye surgery. I studied maps and atlases every night before I went to bed and we actually bought the entire series of The Amazing Race on Ebay and watched it every night. We used it as game time review. We learned so many things from previous contestants
Q. Gina, RealityWanted: Any favorite past contestants?
A. Joe: We liked season 5's Chip and Kim. They were very jolly and competitive by nature.
Q. Gina, RealityWanted: You worked with a few different teams, mainly Steve and Allie. Were you planning to stick with them or were you going to cut them loose when the time was right?
A. Joe: Steve and I are both competitors. He's a professional baseball coach. I played a lot of sports. We said, right now, we're working together but it's a very complex race. We knew at any given point that we would race on our own.
Q. Gina, RealityWanted: Were you surprised that Louie and Michael U-Turned you as opposed to Steve or Allie?
A. Joe: I think being U-Turned is definitely a surprise. We were running ahead and typically, when I've seen U-Turns, it's the second to last team. They don't want that team behind them to catch up to them. If you're in the front of the pack, you usually just keep going because you don't wanna create negative vibes.
A. Heidi: They had the opportunity to u-turn anybody. They didn't have to choose between us or Steve and Allie.
Q. Gina, RealityWanted: Joe, do you think that the comment you made on the bus is the reason they U-Turned you or do you think they had already planned to do it if the opportunity arose?
A. Joe: They said that we were a threat and even with my knee, I was going to push through it. There were a lot of things said on camera and off camera but it's how people portray it.
A. Heidi: In every interview that we did, we never said anything bad about any of the other teams. It's really unfortunate that the U-Turn came and we weren't able to complete the task.
Q. Gina, RealityWanted: How difficult was it to watch last night's episode?
A. Heidi: It was really hard with our family. This was the first time that we just had a private viewing with out immediate family. Our kids think of us as our heroes. They thought for sure we would make it to the final three. There were teardrops everywhere.
Q. Gina, RealityWanted: What are you up to now? What has life been like since you've been home?
A. Heidi: It is just crazy! Joe recently resigned from his steady job and we're just evaluating and reviewing so many different opportunities that have come our way.

The Amazing Race airs Sundays at 8/7c on CBS.
(Image courtesy of CBS)

Follow Gina at twitter.com/ginascarpa
For more Amazing Race links, visit SirLinksALot.net