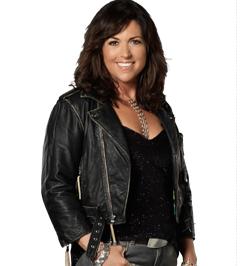 by Gina Scarpa and Chandra Clewley
April Barton has been styling hair since the late 1980's London punk scene. Now, a tenured salon owner in the Chelsea area of New York City, April has a large celebrity client following. During Season 3 of Shear Genius, we got used to her energetic bluntness and her quick wit. After being eliminated last night during a Head Shot challenge, April talks to Reality Wanted about what she think happened during the competition to end her run on the show.
Q. Gina, RealityWanted: What inspired you to go on Shear Genius?
A. April: I didn't watch any of the past seasons. I was contacted by them in the first season to be the judge and Sally Hershberger ended up getting it. That brought my attention to Shear Genius but I didn't watch much television at the time. Now, I'm a big Bravo fan.
Q. Gina, RealityWanted: After watching the show, how do you feel you were portrayed overall?
A. April: I think I was portrayed positively and I'm not disappointed in the slightest. I think it was accurate. I think my friends and family got the essence of me, especially when I lost it last week. They were like, "You were really quiet until last week's episode. Now, you're not taking any BS." The only thing I would say after the fact is that I've been in the business a long time and there wasn't any particular challenge that really... well, I can't say that. I thought I shined but for the judges, it didn't shine.
Q. Gina, RealityWanted: That brings me to my next question. Do you feel you were ever given an opportunity to show off your own creative styling?
A. April: Not my strengths. I've done runway, I've worked with designers, I've done a lot of different things. On a daily basis, though, my knack is making the most out of what someone's got. In 20 years, I have loyal clients and a great work environment, fun, upbeat, very supportive. The clients come because what I have to offer. It's very celebrated. For me... not that I wasn't celebrated on the show because I was... but I wasn't able to sink my teeth into it.
Q. Gina, RealityWanted: This week's short cut challenge was about precision cuts, which seemed similar to the graduated bob. Did you find that the challenges put too much emphasis on technique and not enough on styling and creativity?
A. April: No, it is what the challenge is. My whole thing was that I define or break through lines and rules and regulations with hair. I'm heavily, heavily trained and then I threw all the training out. You gotta have a strong foundation to cut hair. It's very important. Precision to me is like, "Yeah there's your precision but watch me take it away." That's my version. It's who I've become as an artist. Not that leopards can't change their spots, but it's really hard to go back to something like, "Just do a precision cut." That brings half of me to the table, though I feel that I did bring everything I had to each challenge.
Q. Gina, RealityWanted: The elimination challenge involved a "California girl" hairstyle. What would you change if you could do it over?
A. April: No, not necessarily. I think it could've been worse if I would've tried to do something different. Not on this elimination challenge. I don't think that was the losing card in that round.
Q. Gina, RealityWanted: Did you feel the judging was accurate during the show?
A. April: Yeah, the age appropriate comment. She couldn't change her hair color, she had to stay blonde so I put a toner on it to warm it up. The judges were conflicting. If they did something like, work with a client with a 100% satisfaction result and no restrictions, that would've been my favorite challenge.
Q. Gina, RealityWanted: Do you have a favorite to win the show?
A. April: Oh yeah, Brig. I'm a big fan of Brig!
Q. Gina, RealityWanted: What are you working on now?
A. April: I'm working on the salon, that's always my passion, Suite 303 at the Chelsea Hotel in New York City. I'm always creating the atmosphere and the training seminars I have for my staff. I'm just passionate about teaching my crew and other salons. I'm kind of opening it up right now to other hairdressers. I have people that have gone off and opened their own places and we're going to collaborate. I want to open my circle up more.
Shear Genius airs Wednesdays at 10/9c on Bravo.
(Image courtesy of Bravo)

Follow Gina at twitter.com/ginascarpa and Chandra at twitter.com/chandraclewley
For more Shear Genius links, visit SirLinksALot.net