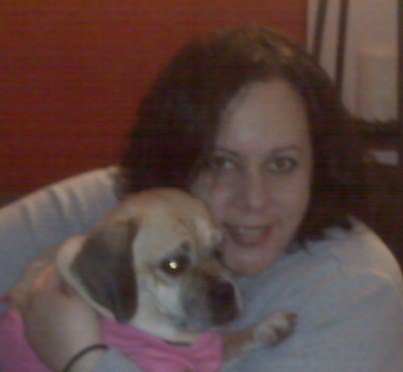 by Mark Yawitz and Chandra Clewey
Animal Planet's Underdog to Wonderdog, which airs on Saturday nights at 9/8 c, is a feel good show that has rescued an exponential amount of pups by bringing attention to the over-population of today's animal shelters. Reality Wanted's very own Kathleen Scanlon sat down with us, to let us know all about how she landed  a spot on Underdog to Wonderdog thanks to casting through Reality Wanted and how that in turn changed her life by adding Nane, a rescued underdog that has become Kathleen's new wonderdog!
Q. Chandra, Reality Wanted: Start off by telling us a bit about Underdog to Wonderdog  on Animal Planet?
A. Kathleen: It's kind of like a Queer Eye for the Straight Guy, but for shelter dogs. They find a shelter dog that is basically unadoptable and there is a Wonder Team, consisting of the team leader Ryan, a trainer Andrea, Ali the groomer, and David who is the canine carpenter. They basically get together, and find a good, forever home for the shelter dog that they have their eyes on.  Together, they shape up the dog, basically, and build a gorgeous dog house, fix up the yard if needed, for the dog. And train the dog as well.
Q. Chandra, Reality Wanted: Why did you feel like you needed to be on the show?
A. Kathleen: Here's what happened, my friend Mike Epstein who is also a member of Reality Wanted, he pointed me in the direction. The casting call called for someone in the New York area that needed to lose weight. I had tried out for weight loss shows before, but I didn't catch this one. I have been a member of Reality Wanted for 4 years now but I missed it. Mike called up and found out about the show, and he just couldn't take in a dog, so he pointed me to the casting call. I called up, I need to lose weight and I had wanted to adopt a dog for years now, so the 2 fit perfectly and I was cast in 2 weeks! 
Q. Chandra, Reality Wanted: When you were thinking of adopting a dog, were you focused on getting a rescue?
A. Kathleen: Oh definitely! I was looking into shelter dogs. Even though I had wanted to adopt a dog it wasn't the right time, but this opportunity came at the right time! 
Q. Chandra, Reality Wanted: What will we see on the air?
A. Kathleen: Nane has to get in shape, she is an overweight dog, deemed unadoptable. And I guess you could say that I am unadoptable too, and an underdog because I needed to lose weight. So they matched us up together and they set me up with a trainer Terry Walsh as well as a food program called Bistro MD, which is gourmet delivery food that is portion controlled. I basically got in shape to be able to walk my dog. I was in training as well as Nane was in training.
Q. Chandra, Reality Wanted: How do the shelter dogs get picked?
A. Kathleen: Casting was working on finding the right overweight dog for the show, so Casting, as well as casting humans, casts the dogs too.
Q. Chandra, Reality Wanted: What advice would you give to somebody that feels compelled to go on Underdog to Wonderdog?
A. Kathleen: If you love dogs, definitely apply for the show! They rescue dogs that you would never think would find a forever home. And it is just a beautiful thing that the Wonder Team goes out there, and places these unadoptable dogs in loving homes like mine with Nane.
Q. Chandra, Reality Wanted: Your episode focuses on getting in shape and losing weight as well as animal obesity. Can you touch on that?
A. Kathleen: I wanted to get the word out there. Just like we are fighting obesity with humans, we have to start fighting obesity with our pets. It's an epidemic. If you are overweight get a dog! If there is an overweight dog, adopt it and just walk with it. Walking is just the best form of free exercise and there is no excuse not to walk. I could not be happier with Nane.
You can see Kathleen and Nane's episode Saturday, March 6th on Animal Planet's Underdog to Wonderdog which will air at 9/8 c.
Follow Reality Wanted on Twitter:http://twitter.com/RealityWanted
Follow Chandra on Twitter:http://twitter.com/ChandraClewley