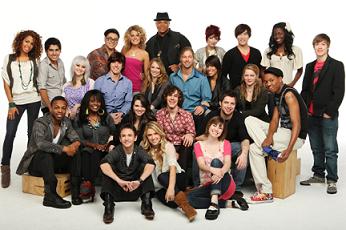 by Gina Scarpa
Don't ask me why American Idol split announcing their Top 24 over two nights but they did. Seven contestants were named Tuesday with the remaining singers finding out their fate on last night's episode.
There were two surprising eliminations, Angela Martin and Thaddeus Johnson. The judges could not seem to offer any real explanation as to why these two hopefuls didn't make it past Hollywood and it seems, perhaps, that it was done for the shock value of it. After all, we're talking about it, aren't we? Thaddeus cried hysterically as if he didn't have another 8 years to continue trying out. For Angela, though, it's been a tough journey with Idol. Besides the personal battles she has fought over the years, this is now her third time with the show and it has yet to pay off for her.
Ah, it's that Idol drama we've all come to know and love.
One contestant has already been disqualified. According to various reports, Chris Golightly could not prove that he was no longer under contract with a boy band and was quickly replaced by Tim Urban in the Top 24.
Here is your list of the Top 24 for American Idol Season 9...
The Guys: Andrew Garcia, Michael Lynche, Tim Urban, Aaron Kelly, Lee Dewyze, Todrick Hall, Tyler Grady, Alex Lambert, Joe Munoz, Jermaine Sellers, John Park, Casey James

The Girls: Katie Stevens, Didi Benami, Haeley Vaughn, Katelyn Epperly, Janell Wheeler, Lacey Brown, Ashley Rodriguez, Crystal Bowersox, Lilly Scott, Paige Miles, Siobhan Magnus, Michelle Delamor
Without having seen them perform for a live studio audience, it's tough to predict who will make Top 10 but I'll take a stab at it.
Gina's Top 10 Predictions: Andrew Garcia, Michael Lynche, Todrick Hall, Casey James, Lee Dewyze, Katie Stevens, Didi Benami, Crystal Bowersox, Ashley Rodriguez, and Siobhan Magnus or Lilly Scott.
Tune in to American Idol Tuesday night, when the Top 12 girls take the stage, at 8/7c on Fox.
(Image courtesy of FOX)

Follow Gina at twitter.com/ginascarpa
For more American Idol links, visit SirLinksALot.net