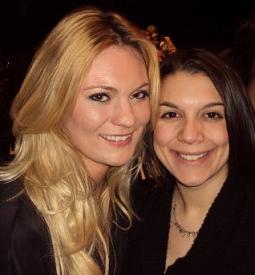 by Gina Scarpa
On Friday, Project Runway held their finale runway show at New York City's Bryant Park for Mercedez-Benz Fashion Week and RealityWanted was there to experience it all! Currently, there are 10 designers left in the competition and in order to keep the press and fans in the dark, the show let all 10 present their collections. In seasons past, only the finalists and a decoy or two presented but this year, it was the longest runway finale show, lasting almost an hour.
Heidi Klum welcomed the crowd and introduced Nina Garcia and Michael Kors, as well as the guest judge, country music superstar Faith Hill. They sat six rows in front of me smack dab in the middle of the runway, while I had a seat right at the end, with a beautiful view of all the collections.
I really appreciated Amy's bold choices with her collection, which was inspired by digital prints. If she loses this week, she can't say that she didn't bring everything she had to Bryant Park. Anthony also impressed with eveningwear full of color. No one can deny his larger than life personality that has turned him into a fan favorite this season! Surprisingly, I loved what Seth Aaron did and to date, I have not been his biggest fan. His collection, inspired by German and Russian military of the 1940s, was full of amazingly crafted coats that I was dying over.
Last season's contestant and RealityWanted writer Christopher Straub singled out Amy's collection calling it "risky, artistic, sculptural, and beautiful". He loved Anthony's sparkles but made a bold prediction to us, saying, "Ben for the win".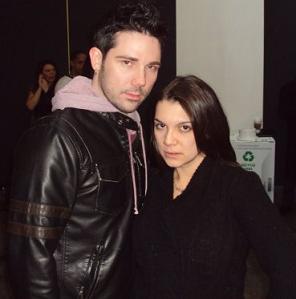 After the runway show, I caught a glimpse of America's Next Top Model judge Nigel Barker giving interviews. Andrew, the intern/stylist, of Bravo's Kell On Earth, was working PR. When I asked him if he was still with People's Revolution, he said, "Well, I'm here so do the math. I'm not allowed to talk about it yet." Ooh, spoiler.
Project Runway season 6 winner Irina Shabayeva stopped to fill RealityWanted in on her very own fashion show, which took place yesterday. Her collection, she told us, is about "finding your freedom. It's about liberating. Maybe it's a post Project Runway thing." Season 6 finalist Althea Harper is also showing and will present tomorrow night. "I've been busy with my own line. We're going into production for the spring/summer collection," she said.
Of the 10 designers, only the collections of the final 3 will be shown on the season 7 finale. Who will it be? Stay tuned to RealityWanted to find out and be sure to read the latest recaps, interviews, and commentary by our reality writer, Christopher Straub of Project Runway season 6.

Project Runway airs Thursdays at 10pm ET on Lifetime.

Follow Gina at twitter.com/ginascarpa
For more Project Runway links, visit SirLinksALot.net