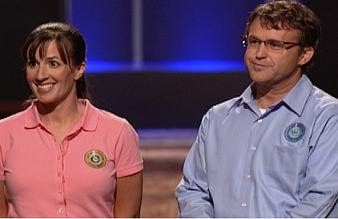 by Michelle Spigner
On tonight's episode of Shark Tank the sharks are looking for a flaw-proof pitch to convince them that investing in the entrepreneurs' companies is a solid venture.
First up into the tank is Jill Quillin with an idea that will help women be both more creative and save money. She is asking $105,000 for 30% stake in her company Lipstix Remix. Lipstix Remix is a kit that women can use to melt down the remnants of old lipsticks and create a fresh new lipstick mold. The kits sell for about $20 and she has sold about 800 units so far. Jill has definitely done her research and gives a flawless presentation. With the investment she wants to test her product in small markets then try to get it onto a home shopping channel.
The pitch is so good the sharks start fighting for a piece of the company. Although Kevin O. and Robert are out because its just not their type of business, Barbara makes the first offer. She is interested in the product but is only willing to put up half of the money. Daymond wants in on the deal but in exchange he wants 40% stake. Kevin H. is also interested but he wants to partner only with Daymond, leaving Barbara out of the mix. Jill steps out to call her husband and business partner, while Daymond and Kevin H. agree to let Barbara into the deal. But the sharks decide to close in at 50%. Jill is a little apprehensive, but thinks the support of the sharks will take her product to the next level and takes the deal.
Next up is Tim Gavern an entrepreneur who seeks to bring a nostalgic treat back into the 21st century. He is asking for $48,000 for 25% stake in his company Captain Ice Cream a new take on the classic ice cream truck that substitutes a truck for a moped with a freezer on the back. He is looking to use the investment to turn his one lone moped into a whole fleet of franchises. But at $200 profit for a whole days worth of work, the sharks are not impressed. They don't think Tim is very prepared and don't see Captain Ice Cream as a profitable business. Tim is not offered a deal.

Some guys just can't hold their caffeine! Sometimes people get caffeinated coffee even though they asked for decaf. Jason Schiavone believes he has solved this problem by creating the Cafeindiator, a litmus test located conveniently on a sweetener packet that turns pink if there is caffeine in your coffee.

Jason's presentation is flawless and he is drawing the sharks in. He plans to take his patented idea to the several sweetener companies hoping one of them will buy his product and incorporate it into their sweetener packets.
But the sharks don't like the risk. If one of the big sweetener companies don't buy the product, the product is dead. So Barbara and Daymond are out. Rob likes the idea but thinks the 25% is too low. He will pay give the $200,000 for 60% but the investment will be based on the fact that they seal a deal with one of the big sweetener companies. But Kevin H. wants in and he will make the same deal as Robert but for 50%. Jason takes Kevin's offer. Good luck breaking a deal with Splenda!
Last to jump into the tank are married couple and business partners Jeff and Annie Hughes. They are coming in to the tank with an idea that gives a twist on an old profession. Their company, Legal Grind, combines a coffee shop with a legal resource center that brings affordable legal services to the middle class. They are asking for $200,000 for 15% stake in their company. They have a pretty good idea going, but it's their presentation that is lacking. Jeff keeps forgetting his lines and his very aggressive wife Annie has to feed him his next line.

The sharks don't understand why the have to use the coffee house a front for their legal services. The couple wants to use the investment to open franchises of the Legal Grind, but the sharks just don't think they are ready yet, especially since they couple only made a profit of $25,000 last year after salaries. Annie's temper starts to rise when the sharks oppose their business plan and goes off to the point where Daymond has to calm her down. But its all too late, the sharks are out. They just don't see the value in their company.

Shark Tank airs Fridays at 9pm ET/PT on ABC.
(Image courtesy of ABC)
For more Shark Tank links, visit SirLinksALot.net