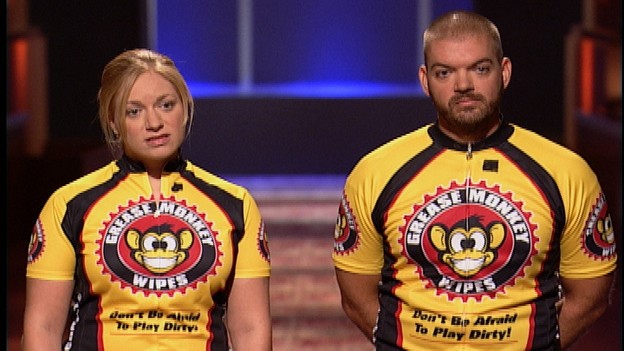 by Michelle Spigner
On tonight's episode of Shark Tank, the entrepreneurs must have both originality and passion for the sharks to offer a deal. 
First up into the tank, is nineteen year-old college student Nate Berkopec who hopes to take a green approach to apparel with his ethical and environmentally friendly clothing brand, The Factionist. Nate is asking for $30,000 for 20% stake in his company. Nate views his organic t-shirt line as a movement and feature moving messages that strive for social change. 
The sharks respect his enthusiasm but tell him exactly just how competitive the clothing market really is. Robert explains that millions of other young entrepreneurs are doing just what he is doing but have the branding power and money already behind it. The other sharks agree they just don't think they can really get behind his idea. They are all out. 
Next up are Anthony and Tina Calvert who have a new idea to make going to the beach and hanging out by the pool both more comfortable and functional. Their product, The Podillow is a face-down pillow that features storages pockets so people lying out for a tan or getting a massage can keep their phones, ipods, and keys handy and remain comfortable in any position. They are asking for $250,000 for a 33% stake in their company. 
As a retired officer from the San Diego County Sheriff's Department, Anthony admits that he has been teased for creating such a dainty product. However, the product is rather practical because it allows a comfortable prop for people to lay their heads on. The Podillow is already in 2 major catalogues and they have sold about 6,000 units. Recently Anthony and Tina have had to turn down orders because they don't have the money to keep their inventory stocked. 
Kevin O. likes the idea but doesn't think its something that they are asking for much more money than the company is worth. Kevin H. thinks the product is too seasonal and meant for the beach. He is out. Daymond really likes the product but thinks they over-evaluated the company's worth. Barbara, Robert and Kevin O. agree and they are all out. 
Ready to face the sharks next, are siblings and business partners, Kimberly and Matthew Foley who are asking for $200,000 for 30% stake in their company Wee Can Shop. Wee Can Shop is an adorable little store where kids can do the shopping for their friends and families themselves. 
Wee Can Shop is unique because there is not competition because it is aimed toward children. To demonstrate their great way with children Kimberly describes their company and business plan by reading a children's book they have written. When Kimberly begins to describe her passion for the company she becomes very emotional. 
Although they are passionate about their company it is not proved to be as financially successful as they had hoped. Wee Can Shop has only yielded a $13,000 profit. Because of this Kevin O. is out and he actually suggests that they shut down the stores. Barbara thinks it is more of a hobby than a business and is out. Kevin H. doesn't believe they should shut it down, but he doesn't believe in it enough to invest. Daymond and Robert agree and are out as well. 
Last to take a dive in are Tim Stansbury and Erin Whalen with their product Grease Monkey Wipes, a portable all-natural cleaning product that is tough enough to remove grease, grime and dirt. The wipes are packaged individually and sell for $1 a piece. Tim and Erin have sold about 7,600 wipes in about three months. 
The product has a great name, a great logo and it works! But it is not patented so competitors could easily copy the concept and formula. This worries the sharks and it seems that Tim and Erin might not get a deal. 
However, the sharks are blown away by the professionalism of their presentation. Tim and Erin both have strong business backgrounds and their enthusiasm is hard to ignore too. Daymond really enjoyed the presentation but its jus not his kind of business and he is out. The Kevins are worried that the product is not patented and are out. Barbara can't really relate to the product and is out. All eyes are on Robert and he is hesitant to go either way. 
While he is debating Erin promises him that she and Tim will not let him down and soon the product will be all over the nation and the world. Robert is finally convinced by her passion and enthusiasm to partner with him. But just as he agrees Barbara proposes that they go in as partners 50/50. They have a deal; Grease Monkey Wipes are going strong. 
Shark Tank airs Fridays at 9pm ET/PT on ABC.
Photo courtesy of ABC.
For more Shark Tank Links visit Sirlinksalot.net