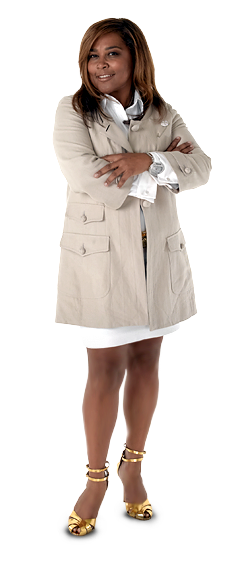 by Chandra Clewley
Marilyn Crawford, along with her expert designer Coco Kliks, was eliminated last night from Launch My Line. Throughout this season, we have seen Marilyn's positive attitude, focus, and drive get diluted through communication issues with Coco, who seemed more introverted, sensitive and unresponsive. The fact that Marilyn had a difficult time articulating or drawing out her visions seemed to stunt this team which was unfortunate, because individually they were both aesthetically talented.  This morning, Reality Wanted had a chance to speak with this Harvard Executive Business School graduate, who is currently the CEO of her own all-inclusive business service company called Windsor PTM.
Q. Chandra, Reality Wanted:  Were you surprised to be eliminated?
A. Marilyn: After seeing all of the other designs, yes.
Q. Chandra, Reality Wanted: How was your partnership with Coco?
A. Marilyn: Difficult. It was difficult from the first second that I met her. It was not edited to look that way, if anything; it was edited to appear easier. 
Q. Chandra, Reality Wanted: Where do you think the disconnect was?
A. Marilyn: If you have two people, it's just like a magnet, and if only one person is a magnet and the other is not, it is inoperable. You can't get together. The first time we sat down together I said "Hey, nice meeting you" and she said something like "I am not feeling good, I need hot water, Where's my hot water?"
Q. Chandra, Reality Wanted: What was it like meeting Lady Gaga?
A. Marilyn: It's so funny ,I really did not know who Lady Gaga was at the time that I was introduced to her, but we did have a wonderful dialogue, I didn't know she was going to become this huge superstar, I just thought she was a nice person who had her own style of dressing and performing. Since then I have seen her perform, she is incredible and I think she will be an enigma and an icon.
Q. Chandra, Reality Wanted: How did you feel about your finished garment on last night's episode?
A. Marilyn: It wasn't one of my true designs, my expert could not construct any of the designs that I created. This was more one of her designs. With that being the case, three of the elements of it, I wanted to put my taste on, and she wasn't able to do that. I think it was just that she did not understand me. For instance, she took the hem off, which was an oversize hem which would have made it flow, she moved the crystals from the back down to the butt, if you saw on the mannequin they were on the back where I wanted them to go. And then the material of the draping around the head, the white material was supposed to be the same material as the dress with crystals on it. All of that input would have made it a totally different dress; we would have won the competition. 
Q. Chandra, Reality Wanted:   Who is your favorite to win?
A. Marilyn: Kathy Rose, she has a good heart and soul, she designs from the soul. A lot of the experts designed for the professionals. The experts were supposed to give us advice but not design the design. Kathy and I designed our own garments.
Q. Chandra, Reality Wanted: Do you think you had a good understanding of what the judges wanted from you?
A. Marilyn:  If I had gone with my first design it would have been over the top. The only confusion came in when I started listening to my expert. If I had gone on my own, I would have had no problem, but I was trying to be a part of the team, which was a tactical error.
Q. Chandra, Reality Wanted: How did you feel the judging was?
A. Marilyn: I thought the judging was a bit off. I thought that if they looked at the overall lines, and the dresses we gave them last night, based on their comments about things looking sleazy and tacky, our design was not sleazy nor was it tacky. There were a couple of designs that were. I don't feel they were on target with dismissing us, although that is not the design that I would have put forth. I wasn't about to throw my expert under the bus.
Q. Chandra, Reality Wanted: What's next for you?
A. Marilyn: I run a national and global company that is the only full service, interactive, integrated communications company that is out there. It does high definition streaming, strategic marketing, PR, advertising, database collection, research and development and production. I have joint ventures with several operations and we offer all of those services in a menu and you can pick or use them all. It is called Windsor PTM. 
Catch an all new episode of Launch My Line on Bravo next Wednesday, at 10 p.m.
Follow me on Twitter: ChandraClewley
(Image courtesy of Bravo)
For more Launch My Line Links visit Sirlinksalot.net