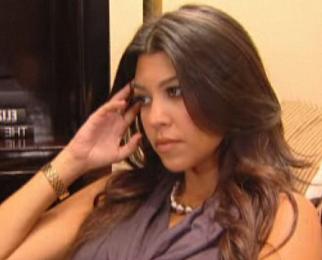 by Danae Young
This week on Keeping Up with the Kardashians, Kim is still missing her ex-boyfriend Reggie Bush and the whole family hates the father of Kourtney's baby, Scott.
Kim blew up at her family for pushing her to get married and have kids. It definitely doesn't help that Khloé just got married. Kim always thought she would be the first to get married so now that she isn't, she feels even more depressed.
Khloé and her new recent husband, Lamar Odom from the LA Lakers, are living in a hotel right now until they find a place to live. When Khloé goes to lunch with Kris, Kris offers to take Khloé house-hunting.
Scott isn't well-liked by the Kardashian family, except Kourtney of course. He accidentally broke a plate and Kris freaked out on him. He has been putting up with this family making fun of him and hating him for so long I just don't know how he handles it!

The next day Scott goes to lay out by the Kardashian's pool while Kourtney is at work because he has nothing to do with his life. Bruce and Kris are worried he isn't ready for a baby.
Kourtney told Khloé that she is always rude to Scott, which is why Kourtney doesn't see Khloé as often anymore. They used to be joined at the hip but not so much now that Kourtney is pregnant.
Khloé started her house-hunting with Kris going from one million-dollar mansion to the next. So not fair!
Kris went to Kim's apartment to check on her because she missed the meeting for her new fragrance. She looked like a total slob; well, as much of a slob as Kim can look. The poor girl just really misses Reggie.
Kris put together a family game night to cheer up Kim. First up, charades.
Scott and Kourtney showed up and Scott tried to make an announcement when Khloé ignores him and goes on with her charade. To make matters worse, the answer to her charade was "Dead Beat Dad." Ouch.
So, Kourtney and Scott left the oh-so-wonderful family game night. Kourtney expressed to Scott that maybe they should move to New York to be with Scott's family because they are more supportive.
Luckily, Scott is smarter than he seems and tells Kourtney she is overreacting.
Kris opened a bunch of Khloé's wedding gifts and started using them without asking. Khloé got really pissed and stormed out of the house. I would be upset, too! If my mom took my wedding gifts and started making waffles with MY waffle-maker.
Khloé had a really cute idea to take a video camera with her to all of the houses and show them to Lamar since he couldn't be there.
Kim had a tough time at her photo shoot. She said she doesn't feel sexy but I don't get why. I don't care house depressed I am, if I looked like her I would always feel sexy.
Khloé found a house that she absolutely fell in love with. Lamar went to look at it but is worried about the price, as if the combination of his money and Khloé's isn't enough? Ha.
Bruce took Kim out to get her mind off of Reggie but they went into an ADIDAS store and there was a huge poster with none other than Reggie Bush on it.
But, Bruce gave Kim some really great relationship advice and she finally realized that she has been in denial. She even took down all of the pictures with Reggie in her apartment. That's a big step!
Khloé took Kris's advice and set up a romantic night for her and Lamar to convince him to get the house. Unfortunately, it didn't really work. He just didn't want such a big house for just the two of them. Especially because he will be gone a lot and Khloé would be all alone in a huge mansion, which makes sense.
Scott really wants to be accepted by the family. This is the first time I've actually noticed it. I feel pretty bad for the guy. He tried calling Kris to invite her and the whole family to come to the doctor's appointment the next day to find out the sex of the baby, but no one answered.
So, the next day Scott and Kourtney went alone.
To everyone's surprise the whole family showed up! Except for Khloé, of course. The family is finally started to see a better side of Scott. Once again, except for Khloé.
The next night Kourtney, Scott, Khloé, Rob, and Kim went to dinner. Khloé and Scott got into a little argument and back at the house Khloé slapped him!
See what happens next on an all new episode of Keeping Up with the Kardashians Sunday nights at 10/9 ET/PT on E!
(Image courtesy of E!)
For more Keeping Up with The Kardashians links visit Sirlinksalot.net