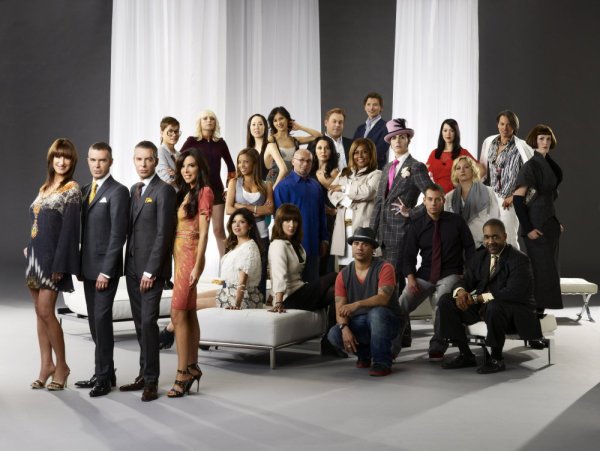 By Chandra Clewley
"What's My Line?"
Was it because DSquared2 was hosting that I HAD to watch the newest coup de grace of Bravo: Launch My Line? Well, it certainly helped. You have to love twinsies that dress the same into adulthood! Since Project Runway's NBC/Weinstein/Lifetime debacle, Bravo has been sadly absent of a flagship fashion show….and please; please do not even mention the ironically named "The Fashion Show" which should have been called "The Off the Rack Ordinary Clothes Show".
Rest assured, fellow Bravo-ites, a fashion show has emerged from the wreckage. I mean, the fact that they shop at Michael Levine and that Frederic Fekkai does the hair and makeup for their models gives this show credibility the likes of which really hasn't been seen by a fashion show up to this point. Mark my words, if this show isn't a hit this season, it will be if and when it ramps up and once the kinks are worked out. Kinks such as the lookalike Thai/Christian Siriano/Are we really that stupid Bravo(?) and the newest member of Bravo: the "tag line" (Thai's is: Live for FASHION! Set the TREND!).  
The show introduces the 10 wanna-be designers, none of which know how to sew even trivial items such as buttons. You have Patrick McDonald, the self-proclaimed "Dandy" who seems to be a buyer for a few fashion lines and a New York "It" boy; Kathy Rose, an accomplished jewelry designer; Louanna, Lou Rawls daughter and a wardrobe stylist; Eric Cubeechee, a D.J. (and Jamie Presley's ex); Merle Ginsberg, a fashion critic; Kevin Black, CEO of his own music marketing and promotions company; Marilyn Crawford, CEO of her own marketing and advertising company; Dan Karaty, choreographer; David Applebaum, an architect; and Vanessa Gonzalez an event coordinator. 
Twins Dan and Dean of DSquared2 then introduce the "experts" all of whom are designers that know how to sew and understand fabric. Each expert is paired up with a wanna-be designer and they are given their first challenge, to come up with a name, logo and signature look. 
The second challenge is to select five baseline fabrics at Michael Levine that they will work with for the entire season. Once the experts and designers are finished, Dan and Dean challenge the designers to now find five additional fabrics without the help of their experts. This will be the last time they are in a fabric store for the season, although there is a "trim closet" in the studio for odds and ends, but the rules of the trim closet are: Only 10 minutes a day, no more than 2 yards of fabric and no experts are allowed in. 
Then they get to work on their main challenge, to create their signature piece for the runway show in less than 24 hours. 
Patrick decides that his signature will be a couture trench coat and the result is a plaid concoction; Kathy creates an elegant couture gown in an amazing yellow; Louanna a beautiful asymmetrical drape dress in gorgeous silver silk cut on the bias. Her dress is almost destroyed by an oil spot but the quick thinking of her expert Jim and she results in juxtaposing the draping to hide the oil. Eric goes J. Lo on us with a flowing green cocktail dress for his "sexy club knock offs" signature, oh, I mean "sexy club wear" signature (my bad!); and Kevin (Tag Line: "Stay ready, so you don't have to get ready!") turns out a colorful and really flattering "urban cocktail wear" dress. 
You can tell already that Marilyn and her expert, Coco, will be butting heads this season. Coco, if you trust editing, is conservative and perhaps a tad bit on the lazy side and is trying to lower Marilyn's expectations. Marilyn scraps the original white dress that she was planning for her "elegant professional wear" power dress look and while Coco retires for the evening, Marilyn stays all night and designs a zebra striped dress. The end result is the audience favorite of the night, a lovely cream colored dress with a pencil skirt on the bottom, and zebra-print brown and white billowing sleeves with a hood that converts to a slouch-turtle neck and then off the shoulder blouse. 
Dan attempts a jacket, not knowing that this is the most difficult thing to design, and his expert, Susan, looks flummoxed. David sticks to his architectural roots and attempts structure but misses the mark by designing something that is not functional enough to look sexy or to wear well on his model and Vanessa designs a well-intended jumpsuit that could have used more structure in the bustier and comes off too costumey. Merle creates a convertible and impactful dress that turns from a pouf dress, to a slim-line dress when the original skirt is removed. It then converts into some other dress but the skirt turns into a scarf and then the other skirt comes off and turns into a vest and then she is wearing some pink under-dress thingy…honestly, I was a little confused. Can you tell? But I liked where she was going with this. 
The top three in this challenge are Louanna, Marilyn and Merle.
Louanna wins. But not before Dean and Dan mention this weird point that the dress comes to in the back. I noticed it too. I liked her dress, but Merle and Marilyn had the convertible thing going and aren't recessionista's going for a one-stop-shop outfit? Plus, I would just hack that tail thing right off of Louanna's dress, but the rest of it is really pretty. 
The bottom three are: Dan, David and Vanessa. I think the judges…oh, did I mention the judges? Stefani Greenfield owns a company called My Next Act and is a consultant and Lisa Kline of the Los Angeles store of the same name. I know Lisa Kline by name, but I am not sure who Stefani Greenfield is (Tag Line: "Luxury has no tiers and cheap is no bargain!" Wait, what?)...anyway, I think the judges were a little harsh on Vanessa. It seems like Vanessa's vision is more Lady Ga Ga, and the judges vision…well, I guess it would be more Lady Blah Blah.  
Dan gets the boot for taking on too much in his "jacket gone awry". 
Don't miss the all new episode of Launch My Line next Wednesday at 11 p.m. E/P on Bravo! 
(Images courtesy of Bravo)