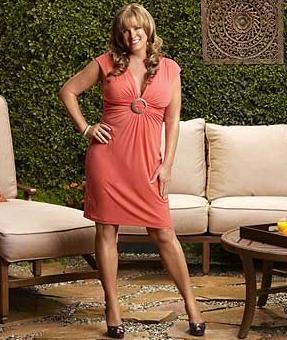 by Chandra Clewley
Jeana Keough has been on The Real Housewives of Orange County since its debut, 5 seasons ago. Originally, the show was based around the gated community of Coto de Caza where Jeana is a veteran real estate agent and homeowner. As the cast grew and changed, the location of the show became more broadly focused on Orange County as a whole. Jeana bids The Real Housewives of Orange County adieu on Thursday, November 19th, after 4 ½ seasons, leaving Vicki Gunvalson as the last remaining original housewife.  Jeana, who is the mother of three, a spokeswoman, a former Playboy Playmate (November 1980) and star of ZZ Tops "Legs" video, opens up to Reality Wanted and lets us know why it was just time for her to go…
Q. Chandra, RealityWanted.com: Why after Five seasons have you decided that now is the time to leave the show? 
A. Jeana: It was Colton's senior year and we needed to do the college search and he didn't want to do it on camera like his sister did. Shane wasn't thrilled being on camera, Kara was busy, we were just all busy and I needed to focus on my work. Summers are "real estate" time, so after four seasons of being busy in the summer and not getting all of my work done, my income was hurting. I needed to regroup. I went out and got a couple spokesperson jobs, and I just did whatever I could do to make some money. 
Q. Chandra, RealityWanted.com: Have you moved from Coto or are you still there?
A.Jeana: Oh my God! I was never leaving my house! I just did a loan modification to make the payments more affordable, but I'm going to die in that house! 
Q. Chandra, RealityWanted.com: How is work going? 
A. Jeana: Real Estate is going great, my other jobs are going great, I'm traveling, I am judging a vertical pole dancing contest that is like 13 episodes, and I've been really busy. Really though, I needed to spend more time with Colton. He was really suffering; he had a couple incidents where I just needed to be home. I just can't be off in Vegas for 3 days because he is at an age where there are house parties.
Q. Chandra, RealityWanted.com: It seems like your relationship with Vicki has really changed over the seasons, what do you think happened?
A. Jeana: Oh! You know what? The moments she is complaining about on camera, which were probably edited too, those were six months ago! We are going to New York together, and she emailed me saying we were going to have so much fun; we are going to shopping, go out to dinner. So, we are busy, we are doing stuff together, just having a good time. I don't think there is any animosity there; I certainly don't have any for her.
Q. Chandra, RealityWanted.com: Would you say that she is the person that you are probably the closest with of the cast members?
A. Jeana: Vicki was the closest person (to me) on the cast, for the last 4 seasons. This season I really wasn't close to anyone. You know, maybe Simon. He and I helped each other through issues, he was having trouble with Tamra and would call me for advice, and I would call him for advice, so probably him, and Slade, more than the women. 
Q. Chandra, RealityWanted.com: Just watching you through the seasons, you seem to have a tendency to defend people. You defended your son, your husband, Donn last year, and in the last episode, you defended Gretchen when she got into it with Tamra. Why do you think you do this?
A. Jeana:  I don't know if anyone knows this, but Tamra did go on E or Extra or one of those shows, and apologized to Gretchen and wanted to put it behind her, so we are watching six month old footage. She (Tamra) let herself get swept away with something that was really one phone call and none of her business. You know what? No matter what relationship Gretchen and Jay had, it's none of our business. She was a single girl doing what she could to help her fiancé through something. She probably knew he was going to die, if she needed her own boyfriend for emotional support or if he helped her by walking her dogs or buying her groceries, or just a shoulder to cry on, who can blame her?  I certainly don't. I have never been in that position, to lose someone. She (Gretchen) was very needy. All of us felt that. And Slade was there for her when she needed someone. He was rebound guy and I thought "oh that won't last!" but watching them and listening to them, I think that this is the real deal. I think if there is a Season Six we will be seeing a wedding and babies. 
Q. Chandra, RealityWanted.com: What about for you? Are you dating anyone? Is your divorce final yet?
A. Jeana: I'm dating! I'm dating a coach and he is super cute, I will say "I am going to get the car washed" and he is so encouraging and has such a good "coach" personality, he  will say, "Good girl! Good girl!" It is kind of fun to have that type of personality in my life! He is very encouraging, supportive. (Before) I always felt like I wasn't doing enough for my children. My mother was one of those people that always put her last, and that was my role model. This boyfriend helped me to realize that I don't have to be everything to everybody. The more I have backed off and let my kids do their own thing, the more amazing they have become. The divorce is almost final; it's really hard to divide everything. I don't want to lose my home that I have raised my kids in for the last 10 years. But no one wants to see their ex-wife in the house and someday have a new boyfriend there. I should be divorced in the next few months. 
Q. Chandra, RealityWanted.com: So, because you are the expert, how is the real estate market looking currently? 
A. Jeana: Coto is recovering and this is the time to buy real estate. We have never had low interest rates like this in 40 years, the prices are almost at a 20 year low, and everybody smart is buying. The builders have started buying land again, and that's your first clue that "ok, it's time".
Catch Jeana's final episode of The Real Housewives of Orange County this Thursday night at 10 p.m. on Bravo!
(Image courtesy of Bravo)
For more The Real Housewives of Orange County links visit Sirlinksalot.net