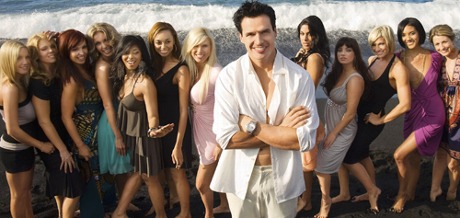 By Jackie Helm
This week on the "My Antonio" finale episode we got a quick blast from the past shows.  Wow, I had forgotten about all the crazies.  Luckily, the time has come for Antonio to choose between two sane and sassy women; Brooke and Miranda.
First up, Antonio  forced the girls out of bed and into a bed photo shoot AS IS.  They had to grace the cameras with bed head and morning breath.  Miranda laughed and played and impressed Antonio.  He liked her bare face that flossed her freckles.  But Brooke didn't really roll with the punches.  She came off insecure and held back on the letting loose.
Later, pimp Antonio sat with a girl on each side in the pool and asked the girls if they would be faithful and only date him EVEN if he were dating other people.  Brooke said hell to the naw.  Miranda lied and said Antonio is the only man she wants to date.
Next in line was a helicopter adventure.  Antonio knew that Miranda is afraid of heights so I'm not sure why he pulled this one.  She handled the first short ride that he took her on during a previous one on one date.  But this time they circled the entire Hawaii island and she was a hot mess.  Now Brooke had one up on Miranda.  Brooke rubbed it and acted as though she were having the time of her life.  I found it pretty awesome that they actually hovered over molten lava.
After the ride and back at the telly, Miranda was suffering the backlash of the claustrophobia and Brooke pretended to be concerned.  The girls had to pull it together and hustle off to the final elimination ceremony.  Miranda and Brooke pulled out all the stops in beautiful black dresses.  Both girls were sizzling hot and ready to win their man.
The dramatic music played as Antonio stood before each girl with his concerned, frowned brow look.  He stated that both girls are exceptional, wonderful, unique women.  He loves Brookes energy and the way she makes him feel.  Miranda is entertaining and makes him laugh.  But…he just can't do this right now.
Of course!  It was only a half hour into the show.  So the seat clencher was procrastinated until the following day.  Refreshed and on their toes, the girls got one more chance to convince Antonio that they are "the one". 
Brooke lay with Antonio on the hammock saying all the right things.  The convo went great….untilllll suddenly Brooke started talking about a "contract".  She wanted to know if Antonio could fulfill the terms of her contract with the main three components being continuity, exclusivity and longevity.  Whooa whoa, slow your roll said Antonio.  He wasn't feeling what Brooke was spittin.  Brooke realized that she had just put her foot in her mouth.
Antonio's final time alone with Miranda on the beach went much more smoothly.  She's an actress and knows when and how to say what.  Antonio tried to make an issue out of them living across the country from each other…but Miranda had an answer to that one too – I'll move baby.
Finally, the REAL last lei ceremony popped off.  The ladies were dressed a tad more casual than the night before.  He spewed about each gals best qualities and asked Miranda to step forward.  She was all smiles and Brooke was about to pass out behind her.  Antonio said, "Miranda, you're incredible, but I am sorry, it's going to be Brooke".  Miranda took the boot like a big girl and said her good-byes.
Antonio took the final Hawaiian lei from his neck and placed it around Brooke.  Antonio said that Brooke has a lot of qualities that he is attracted to and respects.  They romantically embraced and will now live happily ever after!  The End.
I could not be happier that Antonio will now fall in love and marry the ever wonderful, sweet, beautiful Brooke.  Right!

Congratulations Brooke!
(Photos courtesy of Vh1)