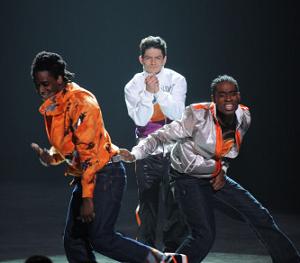 by Lindsay Strouse 

The viewers were given a chance to search for early favorites tonight on So You Think You Can Dance when each dancer performed in their own category. Although no votes were cast tonight, we were introduced to the judging panel of SYTYCD: producer Nigel Lythgoe, ballroom expert Mary Murphy and the newest permanent addition of Adam Shankman. So why the extra chair? It's got Paula Abdul's name on it - the judges hope we'll be seeing her every now and then as a judge as well.

Before the dancers were split into their respective genres, the Top 20 performed a Wade Robson jazz routine. It had a West Side Story vibe with the dancers being split into 4 separate groups. It was impossible to find any weak dancers in the piece or differentiate the dancers by their genre. Thanks for starting the show off with a bang, Wade!

Here's how the rest of the night went down:

Dancers: Russell Ferguson, Kevin Hunte, Legacy Perez
Style: Hip Hop
Choreographer: Tabitha and Napoleon D'Umo
…Wow. Even if these three guys struggle with the other styles, they should at least be remembered for the absolutely amazing things they can do with their bodies in their own style. After struggling a bit in rehearsal to get the choreography together, all three put on a phenomenal show. From swing lifts to Legacy's crazy off-the-ground crawling, the whole piece was incredible. Each hip hopper has grown a tremendous amount since Vegas week and there's no telling how far they will go.

Dancers: Channing Cooke, Ariana Debose, Nathan Trasoras, Jakob Karr
Style: Contemporary
Choreographer: Tyce Diorio
In a piece expressing four different, personal stories of sadness, Tyce was able to mold the dancers' bodies to create beautiful imagery throughout the entire song. All four dancers wore white, which enhanced the angelic motions of their extensions and body lines. Each dancer left their heart on the stage with their raw emotion and unearthly power jumps. In between the few tears I shed (yes, I'm a sap), I think I noticed a bit of sparking chemistry between Nathan and Ariana. Ooh, already things are heating up!

Dancers: Bianca, Revels, Peter Sabasino, Phillip Attmore
Style: Tap
Choreographer: Derick K. Grant
Being a tap dancer and enthusiast, I could not have been more excited to see these three take the stage. America has gotten used to seeing the dancers learn full routines in just about 5 hours, which by itself is unbelievably hard. Speaking from experience, learning a tap routine in just 5 hours is crazy! How those three did it, I do not know. And they did it incredibly well, too. The precision and cleanliness of their steps was beautiful and each dancer put on a great performance. I can't wait to see these guys step out into other styles and see how they do. 

Dancers: Mollee Gray, Pauline Mata, Ellenore Scott
Style: Jazz
Choreographer: Sonya Tayeh
I found the sexy and flirtacious nature of Sonya's piece to be quite ironic, seeing as how all during Vegas week Mollee was hounded for dancing like a "little girl." I guess that just proves how much goes on during that week, for the dancing and attitude in this number was fabulous. The extensions and lines from each girl went on for miles with such fantastic technique. Although I wasn't particularly impressed with the actual story of the dance, I think the girls executed it as well as they possibly could. Congratulations Mollee on graduating from High School Musical!

Dancers: Billy Bell, Noelle Marsh, Victor Smalley, Kathryn McCormick
Style: Contemporary
Choreographer: Mandy Moore
This dance was perfect for showcasing the talent of these four dancers which is what tonight's show was for, I suppose. However, I wish there was more of a story to the piece because I was left feeling a bit detached at the end. Nevertheless, each dancer proved why they deserve their spot on the Top 20. According to Adam Shankman, he doesn't know how they could possibly improve anymore. Now THAT'S a compliment.

Dancers: Karen Hauer, Ashleigh Di Lello, Ryan Di Lello
Style: Ballroom
Choreographer: Jason Gilkison
Surprise, surprise…the dance was about two girls fighting over the hot and hunky Ryan. Not that I'm complaining. To put it bluntly, this dance was HOT. Ryan really stood out for me with his great performance and tight technique. Ashleigh surprised me as well—knowing that she originally didn't make the Top 20, I was concerned that she might not be able to keep up with the others. However, she was immediately praised for her vivacious personality and great technique. I have a feeling both Ashleigh and her husband will end up going far in this competition.


Tune in tomorrow, Tuesday October 27, at 8 PM ET for the first performance show of So You Think You Can Dance. We're seeing some of the best talent ever, so you definitely don't want to miss this!

(Image courtesy of FOX)
For more So You Think You Can Dance Links visit Sirlinksalot.net