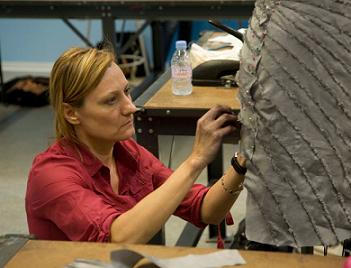 by Gina Scarpa
Tonight, on Project Runway, the designers are given new models: divorcees who want to take their wedding dresses and turn them into an outfit to wear in the new chapter of their lives.  If I were them, I'd rather burn my dress than make a new outfit out of it but that's just me.  Then again, if Christopher was designing for me, I might reconsider.  I'd wear a garbage bag that he designed.  Love him.
Shirin in the last to pick and she gets a model that has hardly any material at all to her dress and not much to work with.  That's definitely going to be a challenge.  Irina, as last week's challenge winner, got to pick first and she has enough dress for 75 brides.
The winner of tonight's challenge, by the way, will receive immunity and it's the last time this season that a designer will be able to be immune.  High stakes!
Shirin screams all over Mood, that her model is going to look like a big peacock.  In his interview, Epperson says that you have to just take your design and go with it.  You can't run around second guessing yourself.  With the limited time they're given for these challenges, he's probably right.
In the workroom, Tim makes the wrongs and he's immediately worried about Christopher's design.  He defends his outfit and promises Tim that it will all work out.  Tim loves Irina's color that she dyed her material but feels that Epperson's garment looks like a lab coat.  Ouch.  Logan is going with a tuxedo look which would be cool… if Annie Lennox was wearing this and it was 1987.  Tim tells Shirin to stick with her look and not let her model dictate what she should do.  It's her butt on the line and that forces her to break down.  You can't blame her.  A Cher-type outfit would probably be anyone's undoing in this competition.
Tonight's judges are Michael Kors, Zanna Roberts, and Tamara Mellon.  I wouldn't call this my favorite challenge but I love what Carol Hannah and Christopher have done.  She ends up being safe, along with Nicolas and Althea.    I have to say I'm a little surprised that Nicolas didn't end up in the bottom.  That outfit was NOT cute.  The top group is Gordana, Shirin (yay!), and Irina while the bottom group is Christopher, Epperson, and Logan.  Epperson, in particular, takes a beating from the judges, who call his dress reminiscent of Oktoberfest or a pirate's wench.
After deliberating, the judges hand down their decisions.  Shirin is in and Gordana is the winner.  That means that Irina is also in, along with Christopher.  Logan and Epperson are left in the bottom and, much as I don't like Epperson's dress, at least it basically fit his model.  Still, the judges decide to eliminate him and give Logan another chance.
Project Runway airs Thursday nights at 10pm ET on Lifetime.
(Image courtesy of Lifetime)
Follow Gina at twitter.com/ginascarpa