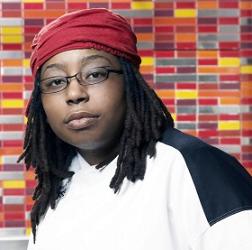 by Gina Scarpa
This week, on Hell's Kitchen, Tennille performed exceptionally well in the reward challenge.  The remaining four chefs were asked to create vegetarian meals for screaming, hungry kids… who don't necessarily like veggies.  Tennille won them over with her vegetable stuffed eggplant and received a makeover and lunch with Chef Ramsay as her prize.  When dinner service rolled around, though, Tennille struggled on the fish station and ended up getting sent home at the end of the night for it.  Today, she spoke to RealityWanted in an exclusive interview about her experiences on the show.
Q. Gina, RealityWanted: What was your cooking background, prior to trying out for Hell's Kitchen?
A. Tennille: I graduated from culinary school in 2005.  Up until my current job, I was just a line cook.  I was recruited right out of culinary school.
Q. Gina, RealityWanted: Had you thought about trying out for Hell's Kitchen before?
A. Tennille: No, not really.  I knew of the show.  My uncle was a huge fan and when they came to my state, I decided to go for it.
Q. Gina, RealityWanted: You were always fun to watch in your interviews.  Did your sense of humor help you during stressful times?
A. Tennille: It's a pretty intense environment and some people tend to get catty.  You're out of your regular regiment, you're working with people you don't know.  The confessional was just an outlet for me.
Q. Gina, RealityWanted: How was it to work with all women for almost the entire season?
A. Tennille: I would've preferred a co-ed team.  Usually, I don't work well with women.  I've never been spiteful and there was some pretty vindictive women on that red team.
Q. Gina, RealityWanted: Who did you like and respect this season?
A. Tennille: I was a big fan of Van and definitely Andy.  I love Kevin.  I call him Superman.  I hope he wins.  Ariel… once we got past our issues in the beginning, she started to respect me.  Lovely was great too, while she was there.
Q. Gina, RealityWanted: What do you think was the biggest problem with your dinner service in this week's episode?
A. Tennille: It is hard to go win a challenge and then come back with only 30 minutes left until service.  On the message boards, people were saying that I was drunk.  I wasn't.  It was tough!  The fish station isn't my strong point.  I just crapped the bed.
Q. Gina, RealityWanted: Is it difficult to perform well in Hell's Kitchen, in comparison to your everyday life?
A. Tennille: Yeah, the logistics of my kitchen are completely different.  70% of the food I make comes off the grill and 80% of that is meat.  There are no ovens on my line.  We either grill or sautee.  
Q. Gina, RealityWanted: What is the biggest lesson you learned from being on Hell's Kitchen?
A. Tennille: Yeah, don't be an a**hole.  I have been an executive chef for a few years.  Your demeanor, your tone, and your body language speaks volumes to people.  Ramsay would come in and we would be automatically scared.  I had a course demeanor before the show and then I got treated that way and I was like, "Not cool."  It works for him but in my kitchen now, it doesn't work.
Q. Gina, RealityWanted: What are you up to now?  Are you going to stay with your current job or will you look for something bigger?
A. Tennille: Right now, I'm going to stay with what's familiar.  If anything comes up, I'll consider it but I recently found out that my partner of 2 years has leukemia.  She needs stability and that's my main focus right now.
Hell's Kitchen airs Tuesday nights at 8pm ET on FOX.
(Image courtesy of FOX)

Follow Gina at twitter.com/ginascarpa
For more Hell's Kitchen Links visit Sirlinksalot.net