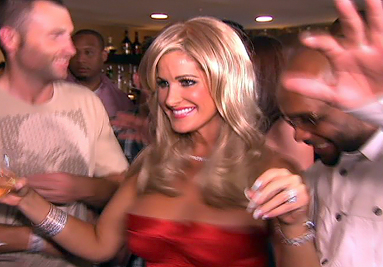 By Chandra Clewley
"Better Tardy Than Never"
Tonight's episode of The Real Housewives of Atlanta starts out with Kim planning her birthday party with event planners. Kim wants to include Kandi in her big birthday bash, because their birthdays are so close in time and she also wants to thank her for helping with "Tardy for the Party."
Kandi and A.J. are hanging up her new plaques since she had to reorder them after they were all stolen years before. Kandi wonders to herself how A.J., who also works in the music industry as a manager, will feel about her success as an artist now that she is trying to make a comeback. Later, she rehearses for a promotional show she will be doing at Tongue & Groove. While rehearsing with choreographer Victor Jackson, Marvin McIntyre shows up to help coach her, as he has done with Ciara, TLC and New Edition in the past.
NeNe has Lisa over to talk about the argument she got into with Kim and Kandi at Sheree's Independence Party.  NeNe feels weird about fighting with Kandi, although she has no remorse for Kim, who she calls "Dirty, Low down Money with a Wig" and says it's typical Kim, who always drops people when she doesn't need them anymore to leave her out of the song. NeNe has no desire to go to Kim's birthday party, and Lisa won't be going either as she feels it is non-organic.
Sheree has Dwight come over to her place to talk about her fashion show. Dwight has some experience and has offered to help her. Judging from the conversation, Dwight does seem to know more about the production of the show than Sheree, who wants flowers on the backsplash of the stage, a black runway and invitations through Evite! As if!! Let's hope Sheree gives up some control because Dwight will be a lot of help. Sheree still has to go to New York City to make sure the samples of her line are coming along, and takes her girlfriend Tania with her. The samples need some work, but they are on their way.
Kim is back together with Big Papa and he drops her off at Kandi's house to record the rest of the verses for "Tardy for the Party." Kim struggles through the song and admits it's a lot of work.
Later, Kim gets ready for the shared birthday bash, and on her way to the party, Big Papa proposes to her…with a huge diamond ring…even though he is already married (?).

The finished "Tardy for the Party" debuts at the party to rave reviews.
Finally, at Tongue & Groove, Kandi is getting nervous about performing. The place is packed as Lisa arrives, and notices that Kim is not there. Lisa is sure that Kim probably gave Kandi some excuse about being sick or having some disease to bow out. Either way, Lisa thinks it is rude but is not surprised.

Once Kandi gets up on the stage she does great and the club is crowded with fans of hers including her family and friends. Lisa congratulates her and when Kandi asks where Kim is, Lisa tells her the she didn't show. Kandi is a bit surprised by it and says that she would not do this to her. Lisa knows that it is "textbook" Kim to use someone for her own benefit and then drop them...ala NeNe.

Catch all new action on The Real Housewives of Atlanta, all new next Thursday at 10 p.m. E/P on Bravo!!!
(Images courtesy of Bravo)
For more The Real Housewives of Atlanta visit Sirlinksalot.net