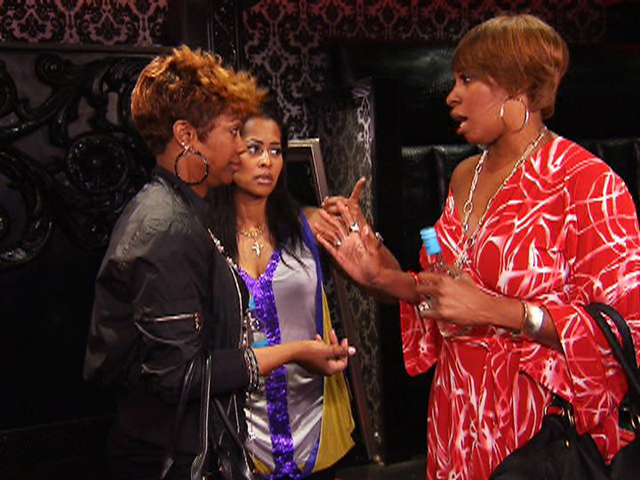 By Chandra Clewley
"Precious Pocketbook"
Tonight's  The Real Housewives of Atlanta begins with Kim and her girlfriend Cori laying out by the pool, talking about what Big Papa did!  Wait, what? Big Papa? Guess who is back?!? Turns out he shuttled Kim and her daughters down to the Bahamas to relax and chill out, just to turn up there and meet up with them. He wines and dines Kim and she is back in the fold with him, although she is afraid that he may never get a divorce. She decides to give him another chance, being that he is "the love of her life." With Big Papa back in the picture, Kim doesn't have to watch her budget as closely, so she goes jewelry shopping at her favorite place. After picking up a 17 carat amethyst ring, her jeweler takes a photo of the $32,000 necklace she tries on so she can covertly send the photo to Big Papa on Kim's behalf. After all, Kim's birthday IS coming up!
Sheree is finalizing the plans for her Independence Party, even though the party planner (Anthony) blew it. She is taking matters into her own hands. Sheree decides to have the party at Door 44 upon her trainer's suggestions. She also commissions a painting by Rossin and sits for it. She is looking for her piece de resistance for the party to capture her newly found happiness. Sheree sits for the larger-than-life size portrait in a green dress that she chooses. When Sheree goes back to sit for Rossin one last time for final details, she brings along her mother, who she says she is very close to. Her mother absolutely loves the portrait and says that it shows Sheree's innocence. Sheree finds it very realistic.
Lisa and Kandi are rehearsing for their Pocketbook Monologues debut. Pocketbook supports abused women, and is very similar to Vagina Monologues, only focused on African-American women. Lisa is intimidated during her rehearsal, but Kandi, relying on her former drama classes, nails it.
NeNe meets with her co-author Denene Millner. They are working on NeNe's book which touches on the fact that NeNe grew up with her Dad who turned out not to be her biological father after a blood test last season.
The Pocketbook Monologues are a success for Lisa and Kandi. Lisa does great with her monologue, entitled "Closed Pocketbook" and then Kandi comes out on stage, accidentally drops her battery pack for her microphone, but keeps it together long enough to kill it on stage with her monologue "Broken Pocketbook". Even Dwight loves it! It is also the first time that Kandi's mother Joyce and fiancé A.J. are together, while Kandi is on stage.
Meanwhile, in preparation for Sheree's Independence Party, Kandi asks Lisa how she should handle the fact that Kim wants to do "Tardy for the Party" on her own, without NeNe. Lisa's suggestion: Stay out of it!
At the Independence Party, Sheree reveals her new bangs and her ginormous portrait by Rossin. Her face must be 4 feet tall in the portrait and granted, Sheree IS beautiful, but NeNe nails it when she says "Is she going to hang that in her house?" Trust NeNe to always nail it.
During the party, NeNe and Kim get to talking about the song. At first, NeNe seems okay with the fact that Kim wants to do it alone but as they get to talking, NeNe gets riled up and tells Kim that without her the song won't be marketable and will not sell. Kim, infuriated, leaves early. Kandi, who is producing the song, doesn't understand why NeNe is so upset about a song that she just said she doesn't really care about, and as she expressed this to Lisa at the part, Lisa pulls NeNe into the conversation as if to "stir the pot". NeNe becomes upset and blows up at Kandi about not being included in the song. Kandi asks NeNe to back down and calm down but when she doesn't, one of Kandi's girlfriends grabs her and pulls her away while Lisa pulls NeNe away. According to what I saw, it appears that Lisa might have started the entire thing too! Shame on Lisa! We LOVE Kandi and NeNe!!!
Catch all new action on The Real Housewives of Atlanta, all new next Thursday at 10 p.m. E/P on Bravo!!!

(Images courtesy of Bravo)
For more The Real Housewives of Atlanta Links visit Sirlinksalot.net