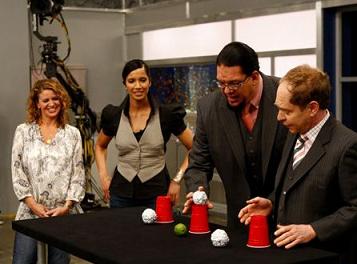 by Gina Scarpa
Tonight, on Top Chef:  Las Vegas, things kick off with a quickfire challenge.  Padma is joined by James Beard Award Winner Michelle Bernstein and they ask the chefs to create a dish to represent the angel and devil on their shoulders.  Very appropriate for Vegas!  Michelle's least favorite dishes were Ash, Bryan, and Laurine.  Michael V. impresses Michelle, as does Eli but it is Robin's salad and apple crisp that ends impressing the most and she walks away with immunity for the upcoming challenge.
As soon as the quickfire is over, Penn and Teller come walking into the kitchen to surprise the chefs.  Since the duo is known for debunking magic and making it entertaining, the chefs will have to deconstruct a classic dish.  They draw knives to find out what dish they'll be working with – no choice for them tonight!   They'll be serving these dishes to Padma, Penn and Teller, Tom Colicchio, and back from England, Toby Young.  That'll put the fear of God in you.  Ashley calls him the meanest critic out there but what do you expect?  A. He's a CRITIC and B. He's on TV.  He's the Simon Cowell of Top Chef, accent and all.
Kevin is unhappy that he pulled chicken mole negro, since he served something very similar to it in the last challenge and it didn't exactly go well.  Jennifer struggles with the idea of deconstructing things because she's classically trained.  Oh, just do it.  You don't hear the Voltaggio brothers whining, do you?  Eli doesn't seem to think that Ron understands what deconstructing a dish means… we'll see if he does when he faces the judges a little later on.
Here are the dishes served tonight:
Ash: Deconstructed Pan Roasted Lamb Chop with Braised Leeks, Glazed Carrots, Pea Puree and Madiera Jus
Ashley: Deconstructed Pot Roast - Seared Strip Loin, Potato Puree, Crispy Shallots, and Carrot Form
Bryan: Deconstructed Tuna Pastrami Reuben, Warm Mayo, Shallots, Rye, Gruyere Cheese, Fried Capers
Eli: Deconstructed Tempura Pork Roulette, Broccoli Puree, Sweet and Sour Sauce, Broccoli Salad
Jennifer: Deconstructed Flat Iron Steak, Mascarpone Bechemel, Tomato Sauce and Parmesan Crisp
Kevin: Deconstructed Baked Chicken and Chicken Croquetta, Mexican Coffee, Chili Flake, Pumpkin and Fig Jam
Laurine: Deconstructed Fish and Chips - Malt Sabyon, Tartar Sauce and Tomato Confit with Ginger and Garlic
Mike I.: Deconstructed Eggs Florentine - Braised Kale Roll, Egg Emulsion, Crispy Phyllo
Michael V.: Deconstructed Caesar Salad with Chicken Wing, Parmesan Gel, Brioche
Robin: Deconstructed Clam Flan with Fennel, Braised Celery Slaw, Pancetta Crisp, Crushed Bacon
Ron: Deconstructed Seafood Paella with Chayote and Fennel
At judges' table, Ashley, Jennifer, Michael V., and Kevin are named the top group.  Michelle feels that Kevin did the best job of deconstructing his dish so he certainly made up for that dish last week by winning tonight.  He's asked to send in Ron, Ash, Laurine, and her bad attitude.  I swear she's had a puss on her face this entire episode.  Suck it up.  Michelle tells Ash that there was nothing about his dish that seemed to be Shepherd's Pie, which is what he was given.  He tries to defend himself and promises to prove himself.  Hopefully, they appreciate the fight in him and keep him around.  Laurine admits that her fish was overcooked so at least she knows where her biggest mistake was.  Toby calls Ron's paella "mediocre" and Padma feels that he didn't do enough to change it.  Guess Eli was right… cause Ron is headed home.
Top Chef: Las Vegas airs Wednesday nights at 10pm ET on Bravo.
(Image courtesy of Bravo)