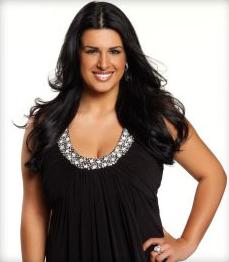 by Lindsay Strouse 
Luke takes us to his hometown of Santa Maria, California where the final two will meet his family for the season finale of More To Love.
While awaiting the arrival of the girls, he reflects on his relationships with both Malissa and Tali. Both seem to have their benefits and drawbacks, with Malissa's physical attractiveness but possibly unprepared attitude about marriage, and Tali's mysterious beauty but clashing culture and religion.
Tali is up to bat first and joins Luke in the first meeting with his father, brother and grandma. The one question hanging like the proverbial elephant in the corner is whether or not Luke's devout Christian family will accept Tali's Jewish background. When Grandma and Tali go off for their own conversation, they talk about Tali's life growing up in Israel and moving to New York. Grandma approves of intertwining various cultures with each other—Dad may not be that easy.
Dinner starts off by giving thanks followed by a hearty meal. The family is very warm to Tali as she tells her story of overcoming insecurities with being overweight as a child up to her present age. The conversation takes a different turn the imminent subject of religion comes up. Tali explains her views that religion is religion and all that matters is that you have something to believe in. She would raise her children to learn both heritages and appreciate where they came from. That sounds good to me, but Luke's father is not so easily persuaded. His already opinionated personality intensifies greatly when religion is brought up.
With that, dinner ends and Luke prepares for the next day with Malissa. The two go for a game of pool where Malissa easily kicks his butt, once again showing off her competitive side. They pack up and head over to Luke's home where the family and Malissa sit back for a couple of beers and a conversation about who else but our favorite man, Luke.
At dinner, Malissa continues to make a great impression, but Luke continues to be wary. Malissa constantly talks about competition within the show and Luke fears she may simply be "in it to win it" as opposed to being in it for love. Dad has a different view and loves Malissa, saying the decision is easy. He believes Malissa would fit in perfectly with the family. In other words, he doesn't have to deal with any potential obstacles concerning religion, faith or different cultures. Luke agrees that it seems logical to pick Malissa, but points out that love isn't always the logical choice.
The next morning, Luke's mom surprises the two women at the house, clad only in their PJ's. Once they settle in for breakfast, Malissa immediately starts talking about her competitive side, leaving no room for Tali to get a word in edgewise. Just as Tali and Luke's mom start to strike up a conversation, Malissa steals the attention away again by fiddling around in the kitchen, leaving a little more than noticeable hints that she is a good cook (which translates to: tell your son to pick me because I'll cook for him).
After breakfast, Tali and Luke's mom go outside to talk more about her relationship about Luke and where she comes from. The hot topic of religion comes up yet again, but thankfully Mom is much more understanding about varying religions than Dad is. She tells Tali that she can easily see her joining the family and raising a family with Luke. During Malissa and Luke's mom conversation, Malissa talks about how she entered this show on a whim, with no depth to what it could really bring to her. Mom isn't looking too impressed. Malissa brings up her brownie points a bit when she talks about her similar views about raising a family with Luke.
You know what they say, Mama knows best. When Luke consults his mom for her expert advice, it is clear that she sees Tali in Luke's future and doesn't think Malissa is ready for marriage. So, we have one parent for Malissa and one for Tali. This could get interesting.
The next day, Tali and Luke go on their last date together before the final elimination. Tali expresses her love of Luke's mother and her open-mindedness. When Luke brings up Tali's work in New York, she says she is open to moving her work to California if it means she can be with him. At the conclusion of the date, Luke and Tali share a passionate kiss where they both express their true feelings to one another. I don't think I have ever seen someone smile as much or as bright as Tali than after that moment.
This gives Malissa a hard act to follow for her date. She joins Luke for a beautiful dinner, complete with pink and red floral arrangements. If you didn't think Malissa was bold enough, she gives Luke a preemptive "yes" to when and if he proposes to her. Well, at least she's dedicated. They continue to talk about a possible future together and exchange a sincere moment of 'I love yous' with one another.
Now that the final dates are over and there are still more than 30 minutes left of the show, I prepare myself for the dragged out scenes preceding the proposal which will obviously be announced within the last five minutes.
During this time, Luke goes to pick out an engagement ring while the girls go to get pampered in preparation for the biggest night of their lives. As the time comes closer, Emme meets with Luke for a quick Dr. Phil-like session. I understand these shows need a host, but this woman pops up at the most random times.
The question on everyone's mind is: who does Luke love and who is he in love with? I have my own opinions brewing in my mind, of course rooting for my girl Tali.
The first limo pulls up. As is true with most dating shows, the first girl to arrive is always the one going home. The door opens and Malissa steps out. As she walks up the aisle to meet Luke, I can't help but feel awful for the girl—she has no idea that the man she loves is about to end things. As Luke starts talking about her great qualities and their wonderful time together, we all know he is just trying to let her down easily. Then comes the word no girl wants to hear—BUT…..
Malissa leaves with a broken heart after he tells her his heart belongs to someone else. He walks her to the car, but she has no words to say to him. Right before the commercial break and Tali arrives in the limo, Luke says, "I really hope I won't regret this decision." Well, that's a lovely thing to say…jerk.
On the other side of the commercial break, we see Tali stepping out of the limo looking gorgeous in a full length gown, complete with a beaming smile from ear to ear. I can't help but smile in anticipation of what she is about to hear. She meets Luke at the proposal podium where he gets down on one knee. YES! I knew my girl would be the one. She accepts and the two share a beautiful embrace. Luke and Tali truly have More To Love. 
(Image courtesy of FOX)
For more More To Love Links visit Sirlinksalot.net