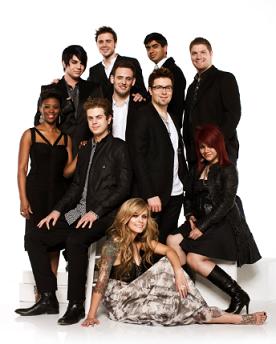 by Gina Scarpa
This summer, American Idol kicked off its nationwide tour, featuring the Top 10 contestants from season 8.  After many months of being on the road, the tour is about to come to an end, after hitting everywhere from Portland to Tamp.  Today, the show made a stop in my home state and I got to sit down with 5 of the Top 10 contestants for an exclusive interview.  Read on to hear what Megan Joy, Lil Rounds, Scott MacIntyre, Matt Giraud, and Danny Gokey had to say about life on the road and what lies ahead for these aspiring singers.
Q. Gina, RealityWanted: When you watched the audition footage each season for American Idol and you saw how many people try out, what  made you decide to go and try to get on the show?
A. Megan: I didn't want to at all.  I never in a million years thought I'd make it past round one but it was the first year they had come to Salt Lake City.  My family was like, "Please Megan,!" and my mom pretty much made me.
A. Lil: It was just pure instinct.  Every time I thought about the crowds, I got scared.  They have to pick you out of this huge bunch of people but I came and I guess I had what they were looking for.  You just never know.  You have to try for it.
A. Scott: You know, I had been told by people, years before Idol, that I should think about trying out.  I really never thought about trying out or took it seriously.  I never thought the show would showcase enough of who I was as a person.  I felt like I would be standing up there pretending to be something I'm not.  Last year, when they allowed instruments on the show for the very first time, that's when I started to consider it.
Q. Gina, RealityWanted: Megan, you were a total individual on the show.  Were you determined not to let the judges sway you or push you into being something that you weren't?
A. Megan: Absolutely!  I knew they couldn't and I couldn't.  All I can be is me.  I can't sing any other way but the way I sing and I like the way I dress and I act so whatever.
Q. Gina, RealityWanted: Lil, do you feel like the judges were too hard on you while you were on the show?
A. Lil: I thought that they really contradicted themselves quite a bit.  Every time they would tell me to do something, and I did, they would be like, "Why did you do that?"  I was really confused.  I have to say that I took from them what I did and I took it all in stride.
Q. Gina, RealityWanted: Danny, the support for you by the fans has been crazy!  How does it make you feel to know that so many people have been behind you?
A. Danny: It really affirms me as an artist.  You really become vulnerable because when you come on the show, you're subjecting your talent and gift to criticism among the masses.  You hear so many different things and it's nice to see when a majority of them come out positive.
Q. Gina, RealityWanted: Did you have any say in what you sing on the tour or did the producers have a hand in it?  What are you singing tonight?
A. Megan: Mainly, they did.  Some people had a little more freedom than I did so I didn't expect anything different.  I don't really get to wear what I want either but that's fine.  I'm singing "Put Your Records On".  I love it, it's a great song, and I'm singing an Amy Winehouse song.
A. Lil: I picked songs from the leading ladies of R&B.  I'm doing some Alicia Keyes, Beyonce, and Mary J. Blige.
A. Scott: I'm singing Keane, Vanessa Carlton, and Billy Joel.  The first two artists are representative of where I'm going as an artist.
A. Matt: Yeah, I sing Hard To Handle, Georgia On My Mind, and You Found Me. 
A. Danny: I had 100% say in what I picked.  I'm singing P.Y.T., Maria Maria, and two country songs by the Rascal Flats - My Wish and What Hurts The Most.
Q. Gina, RealityWanted: Has being on tour for so long taken its toll on you physically, mentally, or emotionally?
A. Lil: Well, I'm definitely not used to singing this much!  I just really sung at church every Sunday but we're talking about 3-4 shows in a row and I've been doing that for a few months.  It was very hard on my voice but we have some coaches that taught us some things to keep our voices in good shape.  It lasted me.  Our last show is Wednesday.
A. Matt: Yeah, I got sick a few days ago.  I'm feeling a little bit better now but everyone else is getting sick.  I feel like we're a group and if one of us gets sick, we all get sick.  I just push through it on stage.  The other night was the worst.  I was coughing, I felt weak, and I just went out there and did it.  I had to work a little harder to sound okay.  It doesn't really matter.  In our job, you can't call out.
A. Danny: It's a grueling schedule to be on tour but at the same time… it's like we're locked in a prison but a very, very awesome prison.  You can't go anywhere.  When you're on tour, you're under contract.  You can't just get up and go home. 
Q. Gina, RealityWanted: How are you feeling now that the tour is coming to an end?
A. Megan: We're definitely exhausted and we definitely miss our families.   We definitely wanna get home, get our real lives going, and find out what's in the cards for everybody.  It's a little sad, too.  We're all really close and we have special friendships and we're gonna miss each other.
A. Danny: Excited and a little sad.  As the tour has progressed, so have our relationships with each other.  We've become really close.  As this chapter closes, it's kind of sad.
Q. Gina, RealityWanted: Scott, considering each venue is different in every city that you go to, what do you have to do to prepare for each show and feel comfortable on the stage?
A. Scott: Before every sound check, I have someone walk me the length of the stage and all the dimensions.  One reason is because it gives me a great sense in my mind of the space and what I have to work with.  The number two reason is because there's big differences in the floors or moving from one platform to another.  Not every arena is the same.  I do do that before every sound check.
Q. Gina, RealityWanted: What's it like to go from being an average person a year and half ago to being well known, to have fans, and to be on tour?
A. Matt: I still see myself as an average person, just with a crazier lifestyle.  I don't think I've changed in any way.  Don't let it go to your head too fast.  You gotta take it in stride.  We haven't really gotten that musical credibility yet.  People know us from a show so now it's up to us and what kind of music we're going to make.
A. Danny: It's a roller coaster ride, that's what it is.  It's a privilege.  I look at it like a privilege and an honor because think about it.  I would just dream about this.  You have a dream and you push forward.  You see it and walk towards it and you never know when it's gonna break and for me, it just broke.  I treasure it.  I really do.  It's something I wanna guard and protect because, just as easily as it came, it can go.
Q. Gina, RealityWanted: Now that the tour is wrapping up, what are your future plans?
A. Megan: I don't have a record deal or anything but I am making music.  I'm gonna start a band and I'll just do it on my own, even if it's just underground and my own thing.
A. Lil: For me, I have a couple of meetings after the tour is up and hopefully, I'll be in the land of record deals and get album out.  If I don't get a whole album out by next year, I'll definitely have a single out.
A. Scott: I am about midway through my album right now.  I'll be working on that a lot when I get off of tour.  You can go to myspace.com/Scott MacIntyre and hear some of what's going on the album.  There's an EP on ITunes and Amazon, part of the album that will be coming out.  I'm really excited.  It's all original music, kind of along the lines of Gavin DeGraw, John Mayer… all those singer/songwriter acts.
A. Matt: I'm going towards Jamie Cullum, James Morrison type stuff.  I wanna get back to the piano.  Different labels have come out to watch me.  Right now, I'm just writing.  We have a little keyboard in the back so I'm working on a few songs.  It's kind of crazy because there's a lot more opportunity, now that the tour is over.
A. Danny: I start my album this month.  The single should be released in November, from what I heard from the record label, and the album in March.  Before the show, I only did gospel music and being on Idol helps you define who you are as an artist.  As the show progressed, I figured it out and I ended up signing with a country label because I feel like that's where I fit the most.  The message, the sound… it fits me and I'm very excited about it.
(Image courtesy of FOX & 19 Entertainment)
For more American Idol Links visit Sirlinksalot.net