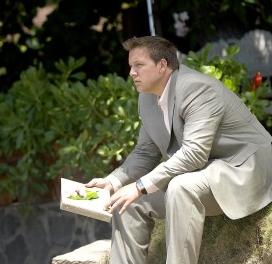 by Lindsay Strouse 

Aloha! More To Love starts off with a bang this week when the girls arrive in Hawaii to a luau in full swing. The party is complete with hula dancers, food and fire eaters and it seems like things can't get any better for the three remaining women. Oh, but it can! Luke announces that this is the last group date much to the women's joy.
The next morning, Luke takes Malissa out on the first date for a day at the Sea Life Park. After "oohing" and "ahhing" at the adorable little sea lions, the couple goes swimming with dolphins followed by a picnic by the water. Although Malissa and Luke always have fun together, Luke wants to see if they can be vulnerable with each other. When asked about her intents for Luke, she doesn't seem as on board with the whole long term relationship/marriage/children future as Luke hoped. The physical attraction between the two is undeniable, but it remains uncertain whether there is something deeper.
The conversation continues at dinner when Luke voices his concerns about how he is the biggest guy she has ever dated. Instead of Malissa being worried of getting sent home, Luke is the one scared of rejection. However, she assures Luke this means nothing to her and is positive that he is the one for her. Malissa also lets slip that she isn't worried about the other girls, for she thinks Luke is hers and just wants to be with him.
The date ends on a rose covered bed—don't starting sighing yet, girls…he uses this move on the next two dates, too. Things start to heat up until Luke lets out one final concern. He voices his insecurities once again about how she has the greatest potential to break his heart. Compliment or not? Don't ask me, I'm just along for the ride.
Day number two in Hawaii is spent with Tali. What is the first thing that comes to mind when you think of Hawaii? The beautiful, clear, sparkling water. Sounds romantic right? Tali may have been in the Navy while in Israel, but she's scared of the water. Hmm. Right when she starts to calm down on the boat ride, Luke announces that the next part of the date is to go snorkeling. Commence tears of fear. Smooth move, Luke. Despite her fears, Tali forces herself to go in the water and shares a big moment with Luke. By helping her overcome her fear of water, both feel they can overcome anything together.
Even though Tali and Luke are from completely different worlds, Luke has feelings that he has never had for another woman. He finally tells Tali how he feels during a nice, calm dinner. Once dinner is finished, Luke takes her up to his bedroom—rose petals and all. They break out the champagne and head over to the hot tub. So not only does he take these girls to Hawaii, but he's giving them foot rubs in a hot tub too?! My life will be complete the day I find a guy who will voluntarily give me a foot rub.
For the last day in Hawaii, Luke takes Mandy ATV riding through the mountains and Hawaiian terrain. Once they settle down to get a bite to eat, the conversation once again returns to the matter of their relationship. Although Luke feels Mandy seems the most ready to be in a relationship, he also thinks she is more worried about the other girls instead of focusing on him.
They cap off the date with a night ride on a beautiful yacht. And whaddayaknow! There's a lone mattress with rose petals chillin' on top of the boat! The pair wastes no time getting cozy and shares a night filled with passionate kisses and honest conversation.
Day Four: Elimination time. Tali, Malissa and Mandy join Luke and More To Love host Emme to find out which two ladies will be returning home to meet Luke's family. I won't lie; I have a soft spot for Tali…I always love the underdog. A smile immediately comes on my face when she is the first to make it into the final two. Anxiety fills the air in anticipation of which name will be called next. After an unnecessarily long pause, the second and final ring is given to Malissa, leaving us saying goodbye to Mandy.
After a tearful departure with Mandy, the final two women and Luke prepare to head home to meet the parents. You don't want to miss this.
The season finale of More To Love airs next Tuesday at 9pm ET on FOX.
(Image courtesy of FOX)
For more More To Love Links visit Sirlinksalot.net