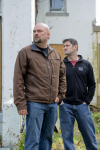 (Photo courtesy of SyFy)
Co-founders of TAPS (The Atlantic Paranormal Society) Jason Hawes and Grant Wilson
Thornbury Farm - Chadds Ford, PA
The Thornbury farm is where the "Battle of Brandywine" was fought during the Revolutionary War.  The Battle of Brandywine was
won of the deadliest battles of the war where 18000 + troops are said to have died.  The current and past residents of the
house on the farm have seen apparitions of a soldier with no arm walk through the house, footsteps, cold spots,  sounds of
horses roaming the property when all horses on the property where in the barn, the crying of a small girl, and the sense of a
"prankster ghost" who tends to slam doors and move objects.
Co-founders of TAPS (The Atlantic Paranormal Society) Grant Wilson and Jason Hawes, began their investigation in a room in the
house that was said to serve as a hospital during the war.  As they began asking questions a very strange noise or humming
sound became audible.  They believed the noise was coming from upstairs in the room once occupied by a girl named Katie who
the current residents believe they hear crying from time to time.  Katie's grave is just outside the house.  Kris Williams and
Amy Bruni spent time in a shed area which held prisoners of war from time to time.  Kris did her best to provoke the spirits
during their EVP session but nothing they experiences was visible or audible at the time.  Dave Tango and Steve Gonsalves took
time off from ripping on each other to try and get a response from "Katie" in her room but did not have any personal
experiences.  Grant and Jason were back on tap, trying to get some interaction with the "prankster ghost" who is said to slam
doors and move tools around the shed.  As they were calling the spirit out, one of the push button flashlights that Jason had
pinned to his jacket turned on.  He took off the flashlight and put it on the shelf and within seconds the flashlight turned
itself on again.  Jason couldn't help himself so he turned off the flashlight again, put it back on the shelf, and it turned
on by itself once more.  The flashlight itself was very cold.  Not much of a prank, but we'll take it and that was the last of
the investigation for the night.
When Grant and Jason reviewed the crying or weeping sound they heard while in the living room it was a sound that the current
residents have heard before and was certainly coming from some type of young girl.  They were also able to get a "chuckle"
after they were experiencing the flashlight incident mentioned before when they told the ghost to turn off the rest of their
equipment.  The prankster ghost was having fun and that incident alone was enough to call the farm haunted, just in time for
the Halloween season. 
Lee-Fendall House – Alexandria, Virginia
Henry Lee, Robert E. Lee's father, owned the house before it was later bought by the Fendall family.  It was built in 1785 and
did serve as a hospital for soldiers when needed.  Past residents and current caretakers of this now museum have seen
apparitions of soldiers and other people in Revolutionary war attire, loud footsteps, and a 1930's style phone ringing when no
phone existed in the house when it happened.  Others have felt a strange, unwelcoming feeling in various parts of the house.
Grant and Steve were the first to investigate the house and while they were hearing some noises they did get some feedback on
their EMF detector but didn't buy too much into the experience.  Kris and Dave tried to make contact with the spirits of a
mother and child said to be seen in one of the back stair cases but nothing was audible or visible to them.  Steve and Grant
tried their best to get some ghostly interaction in the upstairs bedrooms.  They got nothing so another strike for the team
and hopefully something will show up later on the audio or video.  Amy and, substitute investigator Britt, were the brave ones
to head into the cellar.  One thing they did notice was high EMF readings coming from a lot of exposed wiring.  It's been said
many times that this type of EMF can cause people to feel uncomfortable and that someone is watching them.  
The review of the evidence didn't shed any more light on whether the house was haunted or not.  The team really didn't have
any personal experiences so they couldn't call the Lee-Fendall house haunted but this may simply be a case of the ghosts not
coming out on cue. 

Story by: Chad Alan
For more Reality Television Links visit Sirlinksalot.net