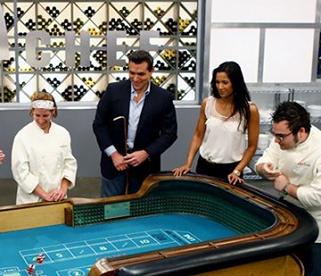 by Gina Scarpa
On tonight's episode of Top Chef: Las Vegas, things get rolling with a quickfire challenge.  Tonight's guest judge is Todd English, who is standing with Padma Lakshmi at a craps table.  Each chef will roll the dice and be able to use the number of ingredients that they roll.  Salt, pepper, and oil are freebies.  Well, at least they get something!  The winner will get $15,000 – damn, the stakes are high this season.  Almost everyone rolls high numbers.  There are tons of 8s, 9s, and 10s.  Laurine, on the other hand, rolls a 3.  She's going to have to go with simplicity but that could be a good thing since that's what Todd English is all about.
There are a wide variety of dishes being made from gazpacho to scallops to asparagus salad.  After tasting all the dishes, Todd places Jesse, Eve, and Bryan in the bottom group.  Michael V., Jennifer, and Kevin impress Todd and are the favorites of the day.  Michael V. wins the challenge and not only gets the cash, but gets immunity as well.
For tonight's elimination challenge, the chefs will be split up into two teams: men vs. women.  They'll have to create dishes for a bachelor and a bachelorette party.  This is Vegas, after all… the land of debauchery, so it's quite fitting.  The challenge doesn't quite sit well with Ashley, who is gay and is left wishing that people could be free to marry whoever they want.  Jennifer is not a huge fan of the challenge either because she feels that gender is irrelevant when it comes to cooking.  Both of the women have good points.  Padma introduces the chefs to an engaged couple, who want good food to go with their shots.  Of course they do.
After spending the day shopping and prepping, the chefs head back to the apartment to relax… or so they thought.  Ashley is fired up, while Preeti expresses that she feels "lame" for NOT being more fired up.  I can definitely understand where Ashley is coming from and I am a bit surprised that Bravo chose to go the way they did with this challenge but weddings are a big money maker for chefs and you can't exactly ignore that market, despite your political beliefs.  Off the soapbox and moving on…
At long last, it's time to present the dishes.  Padma, Gail, Tom, and Todd will be judging tonight's elimination challenge.  Here are the women's dishes:
Robin: Duck mole with cocoa nibs and apricot
Laurine: Moroccan lamb chop with pomegranate pine nut relish
Eve: Shrimp and avocado ceviche with smokey tomato salsa and popcorn
Jennifer: Octopus ceviche with citrus vinaigrette
Preeti: Coriander and sesame chicken tuna with spicy eggplant and wonton crisp
Jesse: Thai chicken lettuce cup with shitake mushrooms, shiso, and ginger beer
Does anyone else feel like they hear the word ceviche more on Top Chef than any other word?  Me too.  After six seasons, I still don't know what the heck it is so I paused this episode to look it up.  For those interested, it's a form  of citrus marinated seafood, usually found in Latin American cuisine.  Thank you, I may now continue with the episode…
The men are up next and here are their dishes:
Michael .V: Apple sorbet and goat cheese cookie
Kevin: Chilled almond soup with king crab, cucumber, and white grape
Mike I.: Arctic char with smokey caper sauce and cara cara orange
Bryan: Sweet and sour macaroon filled with guacamole, corn nuts, and corn puree
Ron: Lobster cocktail with habanero tomato sauce
Hector: Tofu, lemon-lime, tequila ceviche and guajilo-achote tortilla
Mattin: Bouillabaisse with aioli crouton and petit basque croquette (I have no clue either)
Ash: Asian chicken wing with pickled pearl onions
Don't ask me where Eli's and Ashley's dishes were.  If they went over them, they did so very quickly!  At judges' table, Bryan, Eli, Hector, and Mike V.  Eli did something with a tartar and ginger, that's all I got… but the judges loved it so good for him.  Todd announces the winner and he decides that it's between the two brothers for this one.  Bryan is the winner, which is great since he landed in the bottom earlier in the episode.
Jesse, Eve, Preeti, and Ashley are called in from the losing team to face the judges.  Jesse doesn't take the criticism well, that she used too much ginger, and begins crying.  Ashley did two dishes and Padma questions why she didn't just do one amazing dish instead of two.  However, both end up being safe as it is Eve who is asked to pack her knives and go.
Top Chef: Las Vegas airs Wednesday nights at 10pm ET on Bravo.
(Image courtesy of Bravo)
For more Top Chef Links visit Sirlinksalot.net