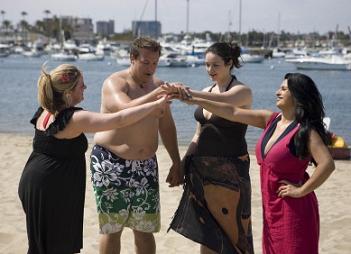 by Lindsay Strouse 
The house seems a bit empty this week on More to Love, with only six plates remaining at the breakfast table.
The mood quickly changes when Mandy and Kristian receive a note describing their next date with Luke. It takes two to tango, so Luke decides to go with salsa dancing. The trio arrives at the dance hall/restaurant just in time to be greeted by two beautiful salsa dancers. Kristian whisks Luke onto the dance floor first, making it clear she isn't here to play around.
Mandy walks in on their one-on-one time just to see the two sharing a passionate kiss. This doesn't go over well, leading Luke to follow crying Mandy to the bathroom. Once she calms down and fixes her makeup, she joins Luke for her own dance. However, it is easy to tell the process of seeing Luke with other women is heavily wearing down on Mandy.
Back at the house, the four remaining girls decide to prove to Luke that they won't be pushed aside. What better way is there to a man's heart than his stomach? Heather, Tali, Anna and Malissa bake a tray of cupcakes for Luke's return along with a pile of love-filled cards. Of course, Luke is overjoyed to see the platter waiting for him upon his return.
Next up comes a one-on-one date with Malissa. She meets Luke for a helicopter ride over the country to a beautiful vineyard with a romantic picnic waiting. They finish their date with a ride on a two-person bike. Just one question: where the hell are they that there are zebras roaming the fields?!
The remaining three girls, Anna, Heather and Tali, receive a letter at the house alerting them of their date at the beach. Tali is anything but happy; the thought of wearing a bathing suit yet again and sharing the date with two other girls is not quite appealing.
The day at the beach isn't as relaxing as Luke planned. All three girls feel uncomfortable, so Luke decides to break the ice by having them slather sunscreen on his belly (that's the best solution to everything, isn't it?). Once everyone starts to loosen up, Tali and Luke go off for a walk. Is it just me, or does it feel like this is the first time we're seeing Tali on the show? She may have flown under the radar so far, but she wastes no time in securing a deep connection with Luke.
Next, Anna and Luke take a boat ride and discuss their views on marriage. Anna says she isn't ready to jump into marriage. However, the obvious attraction between the two overrides her hesitation concerning settling down right away. Last but not least comes Heather. She immediately opens up about her jealousy concerning Malissa's date, surprising Luke. Her insecurities confuse Luke's feelings toward her, making him question their chemistry.
Back at the house, Kristian has reservations about Malissa's claim of love for Luke. In Kristian's world, when she loves somebody, NOBODY ELSE CAN. Yikes. All this talk of love gets Heather scared for she hasn't begun to acquire these feelings for Luke yet.
Everyone wants to have their questions answered at the favorite time of day…Mixer time! Mandy takes Luke away first for a serious talk. She admits that she had an eating disorder in high school and had to find herself and redefine her identity. Her ability to put her life out in the open is endearing to Luke, bringing them closer together.
Kristian decides to take matters into her own hands and tell Luke how she really feels…in three different languages. Her confession flatters and floors Luke, maybe a bit too much. Tali watches Luke's interaction with the girls with envy in her eyes. She confronts Luke about his feelings for Kristian, and admits that her jealousy is at an all-time high. Luke does his best to comfort her and remind her that she knew coming into the show that he would be dating other women.
He dodges the bullet just in time for another elimination. The decisions continue to get harder for Luke, as his relationships grow and become stronger with each woman. His decision is shocking, giving the four remaining rings back to Anna, Malissa, Mandy and Tali. Bubbly Heather and devoted Kristian are left behind with tears streaming down their cheeks.
However, Heather leaves the show feeling confident and better than ever about herself. Just when it seems like next week's previews are about to come on, Luke runs out of the house after Kristian. I won't lie, my heart starting pounding in anticipation of what he might do or say. False alarm. He sees how much Kristian's heart is broken and wants to take the time to comfort her. He lets her know that while he wants what is best for her, that person isn't him.
Tune in next week for More To Love to see Luke's first meeting with the girls' families, airing Tuesday nights at 9pm ET on FOX.
(Image courtesy of FOX)
For more More To Love Links visit Sirlinksalot.net