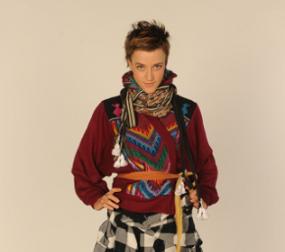 by Gina Scarpa
On last week's premiere of Project Runway, the new crop of contestants were asked to create a red carpet design for the awards show of their choice.  Designer Ari Fish landed in the bottom group after the panel felt that they weren't getting her point of view.  She became the first person eliminated from the competition.  Ari is currently in Germany but took the time to answer some questions for RealityWanted in an exclusive interview.
Q. Gina, RealityWanted: What was your design background prior to coming on Project Runway?
A. Ari: I had been designing menswear for one year. I am a visual artist and graduated with a BFA from the Kansas City Art Institute, with an emphasis in ceramic installation art in 2006.
 
Q. Gina, RealityWanted: What made you want to try out for the show?  Have you watched past seasons?
A. Ari: Lifetime sent me an e-mail urging me to apply and so I did as a sort of performance, and then it spiraled so far out of control that I went on to be a contestant on the show.
 
Q. Gina, RealityWanted: The show has been set in New York for the first 5 seasons.  Is there a difference in the fashion scene between New York and Los Angeles?
A. Ari: I think that New York is more innovative and not as concerned what others think as far as pushing the envelope in fashion design. I think that New York is full of designers and L.A. is full of buyers, with the exception of Jeremy Scott, who is an amazing designer out there in L.A. and also Jonny Makeup who is a style muse of mine out there too.
 
Q. Gina, RealityWanted: Some designers really love a red carpet challenge.  What was your reaction to that being the first thing you would show on the runway?
A. Ari: It was no different than doing any other design job. I think people may wonder why didn't I think differently, but anything should be made with the red carpet at awards shows in mind, as well as the red carpet at the grocery store.
 
Q. Gina, RealityWanted: Did Tim Gunn give you any helpful advice that you will take away from this experience?
A. Ari: He said that he trusts me, and that's my equivalent of "stay golden ponyboy".
 
Q. Gina, RealityWanted: The panel didn't necessarily seem to understand the concept of your design.  You talked about your model going to an awards show but also winning the Nobel Peace Prize.  Can you explain the concept of your design a little bit more?
A. Ari: The original concept behind the piece was for Erica, my model, to be accepting both a VMA for her video of her hit from her Lee Hazelwood and Nancy Sinatra cover band (where she covers both Lee's and Nancy's parts), and then accepts her Nobel Peace Prize for finding that there is an end to Pi. I envision her globetrotting with a pack of about 13 Irish Wolfhounds behind her. So I think the design was more than appropriate given my original concept.
 
Q. Gina, RealityWanted: Do you think that you should have been the one eliminated?  Why or why not?
A. Ari: Oh yes. Why not? You only get eliminated once, so why not first?
 
Q. Gina, RealityWanted: Which designers this season impressed you?
A. Ari: I am not very impressed by clothing design for the most part. I will only say that I am impressed by Gareth Pugh or Nick Cave's designs, but other than that, fashion is just a not so fancy word for not being naked.
 
Q. Gina, RealityWanted: What is in the future for you?
A. Ari: Geez, that's a good question. The future seems to be the new black, doesn't it? I think I would like to start a record label, a gallery, write some books, start a magazine, get rich, get poor, get rich again, have an energy drink, start a death metal band with Garth Brooks, build a house, then an empire, and develop a universal language.
 
Q. Gina, RealityWanted: Despite being eliminated first, are you happy with your experience on Project Runway?  Would you do it again?
A. Ari: I genuinely enjoyed being eliminated first and wouldn't have had it any other way. The only way they could get me back on that show is if they promised to get me out of there first, again.
Project Runway airs Thursday nights at 10pm ET on Lifetime.
(Image courtesy of Lifetime)
For more Project Runway Links visit Sirlinksalot.net