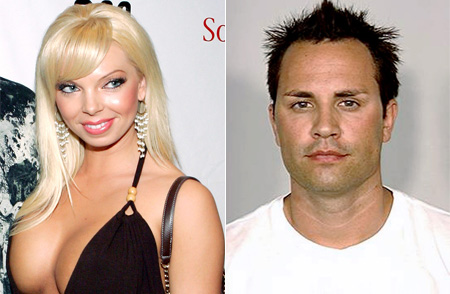 By Jackie Helm
Megan Wants a Millionaire was only 3 episodes deep when it was taken off the air due to contestant Ryan Jenkins being charged in the murder of his ex-wife, model Jasmine Fiore!  On the show, Ryan boasted about having the most "game" as well as many millions as an investment banker.  In real life, Ryan is apparently a mad man!
After filming "Megan wants a Millionaire", Ryan, 32 and Jasmine, 28 met in March 2009 and married two days later in Vegas.  Jenkins was convicted of assaulting Fiore in June and is to appear in court later this year for that incident as reported on tmz.com.  On the show, he told Megan that he does not require a pre-nuptial agreement but the jury is still out on rather Fiore was forced to sign one.  However, Ryan and Jasmine's quickie marriage was annulled in May.
Last week, Ryan and Jasmine were staying at the L'Auberge Del Hotel near San Diego but video surveillance only show Ryan leaving on Friday.  The hotel has been searched twice and not a drop of blood was found.  It is believed that Ryan strangled Jasmine in the hotel, transported her body in a suitcase and later mutilated her elsewhere.  Ryan reported Jasmine missing on Saturday, the same day her body was found and then is believed to have fled to Canada.  Her naked and brutally beaten body was discovered in a dumpster inside of a suitcase in Orange County.  She could not immediately be identified as her teeth and fingers were missing.  Later in the week of August 17th, Spokesperson Farrah Emami said the body in the suitcase was confirmed by as Jasmine Fiore's by the serial number on her breast implants.
Fiore was last heard from late Thursday night and early Friday morning through text messages she was sending her ex-boyfriend Robert Hasman in Las Vegas.  Hasman is the same ex that she vacationed with in Los Cabos, Mexico in July.  According to TMZ.com, Hasman received a last text from Fiore's phone that said "suck it".  It's believed that Jenkins sent the text to him once discovering Jasmine was texting and planning to visit Hasman.  Reports are flooding the lines of media and an international manhunt is on for Canadian Ryan Jenkins.
Questions are looming on the extent of reality TV show background checks.  Cnn.com reports that Jenkins pleaded guilty in Calgary, Alberta, to assault in a separate case in 2007. He was sentenced to 15 months probation, ordered to undergo counseling for domestic violence and sex addiction and to stay away from the person involved, according to court records.  Lisa Lepore, Fiore's mom told nydailynews.com, "I never had good vibe with him.  They didn't get along. He's really cheap and just weird."   Did the discovery of Jasmines texts to her ex set Ryan off?  And did his jealousy drive him to murder?  Also, where did he brutally remove her teeth and fingers during the short time of murder and the discovery of her body? 

Jenkins is believed to be armed, Orange County District Attorney Tony Rackauckas said Thursday. "There's a handgun missing from his apartment, which is the last place he was before he fled," he said.  Myfoxny.com reported that The U.S. Marshals Service is offering a reward of up to $25,000 for information on Ryan Alexander Jenkins.

Ryan filmed the unaired, "I Love Money" Season 3, in March and the unconfirmed rumor is that he won the grand prize of $250,000.  Vh1 has discontinued airing Megan Wants a Millionaire and has issued the following statement:
"Ryan Jenkins was a contestant on 'Megan Wants A Millionaire', an outside production, produced and owned by 51 Minds, that is licensed to VH1. The show completed production at the end of March. Given the unfortunate circumstances, VH1 has postponed any future airings. This is a tragic situation and our thoughts go out to the victim's family."
http://abcnews.go.com/video/playerIndex?id=8388470

UPDATE 8/24
Ryan Jenkins was found dead yesterday in a motel in British Columbia.  The 32 year old real estate developer hanged himself and was found by police in his room.  California authorities would not comment on the situation but a spokeswoman for the Orange County District Attorney's Office said, "We continue to believe that Mr Jenkins was solely responsible."
For more Megan Wants A Millionaire links visit Sirlinksalot.net