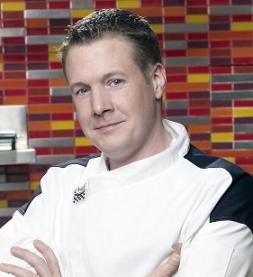 by Gina Scarpa
Last night, on Hell's Kitchen, both teams ended up on the losing side of things after Chef Gordon Ramsay shut down the restaurant due to a poor dinner service.  The blue team put up Andy Husbands while the red team put up Sabrina Gresset for elimination but Ramsay had other plans.  Out of the crowd of remaining chefs, he pulled Jim McGloin up to the front, told him he didn't have the heart to continue cooking, and took his jacket away from him.  Today, Jim spoke to RealityWanted in an exclusive interview about his surprising elimination and his experiences on Hell's Kitchen.
Q. Gina, RealityWanted: You started out the season so strong.  Both Rock and I liked you very much and spoke highly of you in our articles.  What happened over the last few weeks that led to your downfall on Hell's Kitchen?
A. Jim: I think I was perceived as unintense.  I wasn't there to play a game.  I'm aware of the show, I knew what it was about but I just kept my head down and tried to cook well.  I never talked bad about anyone or threw anybody under the bus. 
Q. Gina, RealityWanted: You had so many funny one liners in your interviews.  You definitely teased other contestants but it never seemed mean spirited.
A. Jim: No, it was never malicious or mean spirited.  I did well in the interviews.  You need to have some light heartedness. 
Q. Gina, RealityWanted: What made you want to try out for Hell's Kitchen, as opposed to other reality cooking competitions?
A. Jim: I've always been a big admirer and had respect for Gordon Ramsay.  Around season 2 is when I started to seriously consider it.  People were always saying, "You should do this," so I went to an open casting call in Boston and took it from there.
Q. Gina, RealityWanted: The chefs on Hell's Kitchen have varying opinions when it comes to Chef Ramsay.  What's your take on him, after working so closely with him?
A. Jim: He is who he is.  He's intense.  He's an icon.  That's the show and that's what it's about.  All of the hard times that he gives you are only to make you better. 
Q. Gina, RealityWanted: You didn't seem to get too thrown off when he would scream in your face.  How did you handle it?
A. Jim: I've always been pretty calm.  You can't get too flustered.  Going in, I said to myself, "He's not breaking me."  I just remained calm and tried to listen to what he's saying.
Q. Gina, RealityWanted: Which chefs impressed you this season?
A. Jim: It feels weird saying it but Andy really is good.  He's the owner of his own restaurant, Tremont 647 in Boston, and we go there every week to watch the show.  He's a barbecue champion and he's written two books. 
Q. Gina, RealityWanted: Your elimination was pretty surprising last night, especially since you weren't even nominated.  How shocked were you?
A. Jim: I don't know… I felt this weird electricity in the room.  He was on me the whole day about little things.  I was like, "I'm in a funk and he's really riding me."  My team never put me up and I never got a chance to defend myself.  They tell you before eliminations, though, that it could be anyone and you've seen this type of thing happen before in past seasons.
Q. Gina, RealityWanted: What are your plans for the future?
A. Jim: I'm gonna keep cooking.  I don't know what's gonna happen.  I didn't have a motive for doing the show.  I just wanted to try to do as well as possible.
Q. Gina, RealityWanted: Tek told us that the two of you are in a relationship and may be opening a restaurant together.  Can you confirm those plans?
A. Jim: Yeah, that's true.  We're in a relationship but it really doesn't have anything to do with the show.  Opening a restaurant together is always a possibility but realistically, it's not gonna happen tomorrow.  In this economy, even successful restaurants are struggling.  It's not a good time.
Q. Gina, RealityWanted: Where are you cooking now?
A. Jim: I'd really rather not say because I'm putting in my notice.  The place I'm at hasn't really been fair to me through this whole process.  Now that it's over, I can move on but I've been trying to keep their name out of my mouth.
Hell's Kitchen airs Tuesday nights at 8pm ET on FOX.
(Image courtesy of FOX)
For more Hells Kitchen Links visit Sirlinksalot.net