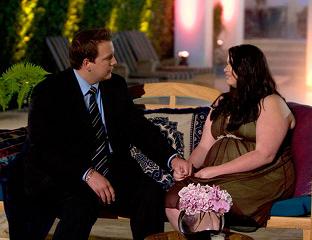 by Lindsay Strouse 
Tensions flare this week on More To Love when Luke has the girls decide amongst themselves who would be a "Good Wife" and who would be a "Bad Wife."
Kristian is up first, and is taken aback when several of the girls vote her as a bad wife because of her emotional instability. Heather is voted to be a good wife by the majority of the girls because of her effervescent, bubbly personality. Many decide Lauren wouldn't be a good fit for Luke because of her overly assertive behavior. Last is Mel B., who is reduced to tears when all except one vote her as a bad wife.
As a reward for being declared best and worst wife, respectively, Heather and Mel B. receive one-on-one dates with Luke, leaving the rest to a group date.
Mel B. joins Luke for a romantic date of Moroccan cuisine and belly dancers…that's right, belly dancers. After Mel and Luke finish dinner and discuss her obvious shyness, two beautiful belly dancers come in to lighten the mood. This is anything but fun for Mel B. at first, as the skinny dancers make her feel even less confident and adequate around Luke. However, as the dancing progresses, Mel starts to come out of her shell and blooms into a sexy, confident woman.
While Mel B. finishes up her date with Luke, Heather prepares for her second one-on-one date. She is taken to a room full of exquisite gowns and is told to pick any dress she wants. She chooses a beautiful navy blue strapless gown to wear for her night out. She comes back to the house gleaming just as Mel B. gets back from her date, and immediately steals the spotlight.
Now if I've ever seen a man that knows how to treat a woman, Luke is by far the best. He accompanies Heather to a castle (I'm talking full-blown, fairytale castle) where they spend an amorous night on the moonlit terrace. (Insert sighs here). After the smooching subsides, the two go outside for a candlelit dinner. Luke announces that he has something to say, something he's been holding in for a very long time. You can literally see the color flush from Heather's face as Luke says the unthinkable—he has three kids…JUST KIDDING. So he's romantic, sweet and a jokester? The color finally returns to Heather's face and they conclude the date with laughter and intimacy.
On to the group date. The remaining six girls are taken to the St. Regis Spa for a day of relaxation and leisure. After arriving at the spa, they are given instructions to put on robes and meet Luke for lunch by the pool. First bathing suits, now robes? Jeez, Luke can't wait to get these girls out of their clothes! Once the girls get settled under the sun, Malissa steals Luke away for a sensual hot tub experience.
While the pair are gone, the others deal with growing jealousies of Luke kissing and spending time with other women. Although they were all aware this was going to happen, the decreasing number of women make everything a little more real. Lauren is intent on making sure Luke only has eyes for her. Unfortunately for her, as soon as she gets a moment alone with him, the girls beckon Luke inside, cutting their time together much shorter than Lauren would have liked.
Mixer time! Is it just me, or is this show getting a little predictable? Lauren pulls Luke aside to make up for the time lost during their group date. She informs him that she is more competitive than the other girls about getting his time. I thought they were supposed to be competitive about getting him to fall in love with them? But that's just my opinion. Mandy invites Luke for a dance by the pool, where she shares her thoughts bringing them closer together.
Host Emme is the official party pooper, coming in to tell the girls that two more are going home tonight. The rings go back in the bowl and the fourth elimination begins. It is easy to tell how attached Luke is beginning to get with the girls, for the pain in sending women home gets more apparent every week. First to be called is Heather, followed by Tali, Malissa A., Mandy, Kristian and Anna. This leaves us saying goodbye to Lauren and Melissa B.
Lauren is floored by his decision and is certain that he will never find a girl as right for him as she was. Melissa leaves crushed by the thought that she won't be able to bring her first boyfriend home to Mom and Dad. Nonetheless, Luke has given her hope for the future that she will be able to find love.
More To Love returns next week, airing Tuesday nights at 9pm ET on FOX.

(Image courtesy of FOX)
For more More To Love Links visit Sirlinksalot.net