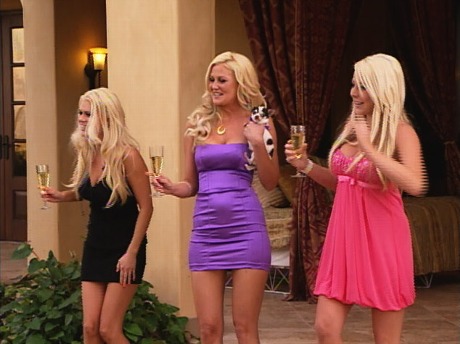 By Jackie Helm
Megan is BACK!  Who can forget gorgeous bikini clad Megan?  To refresh your memory, Megan was a hottie in Beauty and the Geek, fought for Bret Michael's heart, tried to get right in Charm School and was a fierce competitor in I Love Money.  She's a beauty with a body that is out to win exactly what she wants:  Love AND Money.
There was comedy from the get-go as Megan began to meet the millionaires!  There were some hunks, a couple punks and a few men that made you say, "Hold up…wait a minute!"  Businessmen, bodyguards…strippers…and plumbers?  Whatever the profession the men must have over a MILLION dollars and be willing to spend it!  But that is pretty much all they needed to apply.  Why?  Well, Donald the movie producer wasn't youths' best friend and Garth the plumber wasn't…well…a girl's first pick.  There were even two "trust fund babies" Joe and James. However, it was later discovered that James is in the trust fund of a person who is still living.  He's not quite a millionaire yet!
After the introductions, Megan called in her besties and former reality show co-stars, Cecille and Brandi C., to help with her decision making.  In effort to "lead by example" Megan gave each man a personal gift.  Trust fund baby Joe doesn't flash his money so his gift was a piggy bank.  SexToy Dave received furry handcuffs and Big Bodyguard Mike got a teddy bear.
Weird Al was quirky and nervous.  He even said that the way Megan was holding his hand was uncomfortable and he awkwardly repositioned it.  Oh, the laughs this guy will bring.  His personal gift was massage oil, which he later used to rub Megan's feet.  He thought this was a great way to redeem his earlier nerdiness.  Nope!  He told Megan to poke his cheek…or something.  As she did, he made a sudden movement and turned to pretend he was going to bite her finger.  This startled Megan and caused her to jump and spill her wine all over herself.  Ha ha ha.  She ran away crying as her girlfriends chased after her.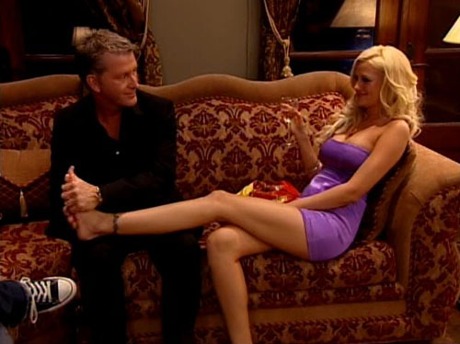 During alone time with Audi, who wanted to be called Big Dog, he told Megan that girls chase him due to his "hump game".  Yes, he tried to brand his own term on national television and I hope to God that it doesn't catch on.  Megan wasn't impressed with Big Dog Audi and whatever "hump game" he might possibly have in store for her.
 Francisco tried to turn up the heat and gave Megan a peep of his pecs.  Punisher, (who made his millions as an exotic dancer turned real estate investor) was not to be outdone.  This revealed Punisher's big black birthmark across his sexy brown six-pack and Megan wasn't feeling it.  Disappointment continued as Canadian hottie Ryan said that he would need a green card to live in the US.  But he sweetened his pot as he said that he would not require Megan to sign a pre-nup.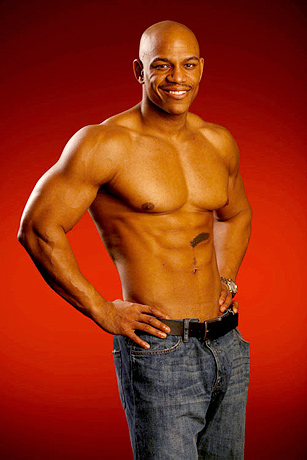 Punisher
Later, Garth the Plumber began heckling Joe the trust fund baby.  He was basically being a bully as he knocked Joe's piggy bank out of his hands.  Seeing the shattered pieces of his piggy bank on the floor, Joe became a cry baby as he screamed, "What did I do to youuuuu!!!"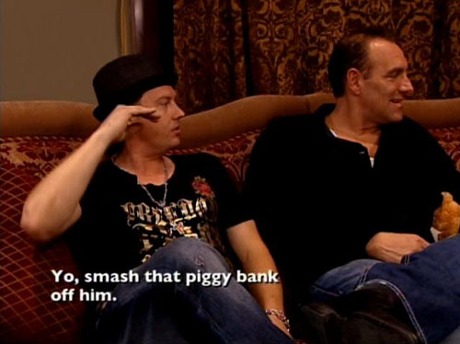 Bully Garth (in hat)
As Megan deliberated on whom to send home, her blonde buddies gave her good advice telling her to use her head and brain in the decision.  The men of money stood nervously as she called each one to receive their "approved credit card".  The men who got their cards cut in half were:  Hump Game Audi, not-yet-millionaire trust fund baby James, and Donald, the senior movie producer who was sadly a little out of place.
The games will soon begin and the men will fight to win competitions!  They're prize will be the opportunity to spend their money on Megan.  I'm not a fan of gold diggers, but I'm starting to feel a little green!  See you next week!
For more Megan Wants A Millionaire news visit Sirlinksalot.net