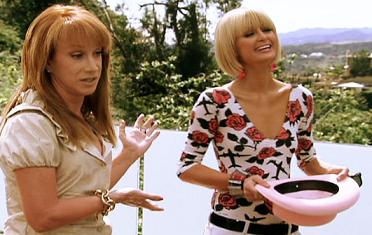 by Danae Young
This week on Paris Hilton's My New BFF, D-Lister Kathy Griffin makes a visit!

But first, Onch announces to everyone that they will be taking part in a press junket. Elena did a decent job. Tiniecia surprisingly didn't lose her cool. Stefanie started crying and had another one of her minor meltdowns. Stephen did a totally awesome job not cracking under the pressure so he got to be Paris's new pet. Amanda did a pretty horrible job. First she put her previous employer on the back burner and then got an attitude with the interviewer. All of which were factors for her getting put up for discussion.

Back at the mansion, everyone cooked dinner for Stephen. After a delicious meal, the girls got together and gave Stephen a spa night which looked so relaxing! Jealous!

The next day, Stephen chose Elena to be put up for discussion because out of all the girls she seemed to be too focused on other things rather than pampering him. Then, Kathy Griffin comes out to talk to everyone. She announces that everyone will have the chance to "roast" someone else in the house. They all choose names randomly out of a hat and get some one-on-one time with Kathy for some roasting advice.

Later that evening, it's roast time! Up first is Stephen who happens to be roasting his good friend Tiniecia. He did a great job of making everyone laugh without hurting Tiniecia's feelings. Next up was Tiniecia who was neither funny nor hurtful. Amanda's roast was downright offensive towards Stephen. Unfortunately Stephen took it so hard that he was put up for discussion. Not only that but he also had to give up his pet necklace to Stefanie. She got the necklace because when Tiniecia roasted her, she handled it really well when everyone expected her to have another meltdown. And when she roasted Elena, she did a pretty good job. When Elena roasted Amanda, it wasn't super funny but it was decent.

That night it was time for elimination. Stephen, Amanda, and Elena are up for discussion. Paris sent Stephen back to his seat because we all know he deserves to be there! He just needs to thicken his skin a little bit more. As for Elena, Paris said TTYS to her. And when we all thought Amanda was safe, Paris said TTYN to her.

Tune in next week when Paris goes to visit everyone's loved ones in their hometowns!

Watch all new episodes of Paris Hilton's My New BFF, Tuesdays at 10pm ET/PT on MTV.
(Image courtesy of MTV)