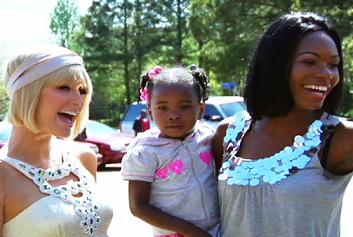 by Danae Young
This week on Paris Hilton's My New BFF, Paris finds out more about where her final three are from.

The episode starts off at elimination and then rewinds and shows each experience Paris had visiting the final three's families. The first place she visits is Tiniecia's home way down south right outside of New Orleans. Paris sat down for some grub with Tiniecia and her large family, which turned into a photo session for Paris and Tiniecia. After dinner, the whole group walked down the street to the town church. Paris was walking in her stilettos, go figure. At the church Paris went up to the podium and spoke a few words about Tiniecia and then her and Tiniecia joined the choir and sang.

The episode flashed forward back to the elimination where Paris told Tiniecia she has amazing qualities for a BFF. It flashes backwards again to Paris's visit to Stephen's cute, quiet soccer mom hometown. They two walk upstairs to Stephen's room and sit on the bed and gossip for a little. They then head back downstairs where Paris meets the rest of his family and friends.

Flashing ahead to elimination, Paris expresses how much she likes Stephen's family and his relationship with them. And then the episode flashes over to Paris's visit with Stefanie, however, Stefanie doesn't have much of a family so Paris decides to take her to Dallas, TX. The two of them have a heart-to-heart on a bench in a garden. Then Paris surprises Stefanie by reuniting her and her sister, Heather. The three of them have a cute dinner while reminiscing about old times.

Back at elimination, Paris tells Stefanie she appreciates how much she opened up. It comes time for Paris to make a decision and it totally shocks me when she picks Stephen to say TTYS to. She doesn't think she can have a boy BFF, which is such a bummer because I loved Stephen!

Tiniecia and Stefanie are her two final pets, who will become Paris's new BFF?
Watch all new episodes of Paris Hilton's My New BFF, Tuesdays at 10pm ET/PT on MTV.
(Image courtesy of MTV)