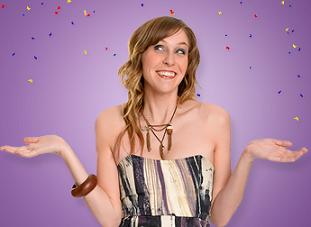 by Gina Scarpa
Last night, on the finale of Bravo's The Fashion Show, Anna McCraney was crowned the winner.  After showing a collection on last week's episode, the fate of the final three designers was left in America's hands.  As the winner, her designs will be available for purchase and she also receives $125,000 from TRESemme.  Today, Anna spoke to RealityWanted in an exclusive interview about her victory and what's in the future for her!
Q. Gina, RealityWanted: How agonizing was it to sit through the reunion taping, waiting to find out the results?
A. Anna: Oh my God!  I was so nervous.  I just wanted to roll through everything to get to the point.
Q. Gina, RealityWanted: What is the sweetest part about the victory for you?
A. Anna:  Because the decision came from the public and ultimately, I'm making something that people go out and buy… that really made a huge difference to me.  I want to sell what I'm making.  I'm not operating in a vacuum! 
Q. Gina, RealityWanted: Daniella walked away with $10,000 for being the judges' favorite.  Money aside, were you bothered that they didn't pick you?
A. Anna: No, I knew that they really liked Daniella.  She shows a lot of promise as a young designer.  I think that her collection was gorgeous.  Her collection was very of the moment, very high fashion.
Q. Gina, RealityWanted: How confident did you feel going into the finale taping after you presented your collection?
A. Anna: I felt really confident, actually.  My collection got an audible response from the audience at the show.  People were spontaneously clapping for things which wasn't happening with other collections.  That was a really good response to me.
Q. Gina, RealityWanted: There's been a fair share of drama this season.  What was your mentality going into the competition and how did you stay out of it?
A. Anna: At the end of the day, you never know what's gonna happen with a reality TV show so you want to walk out of it with your self respect.  I still want to operate in the industry so I didn't want to embarrass myself or people in my industry or have people lose respect for me.  You wanna stay as classy as possible.  That's just what I tried to do.  I wanted to walk out of the whole thing no matter what happened and get a job.
Q. Gina, RealityWanted: What was your favorite piece that you designed?
A. Anna: The cups dress.  That was just something that I did and I was completely trying something new, you know?  That for me really stood out.
Q. Gina, RealityWanted: Which designer's work did you like and respect the most this season?
A. Anna: I loved Daniella's stuff.  I thought she had some really good ideas.  I think that Haven is really great, too.  I don't know that she was able to show everything she could do.
Q. Gina, RealityWanted: What's next for you, now that the show is over?
A. Anna: I was so prepared not to win that I was trying not to think about it so much.  Now that I've won, I'm like, "Oh God I gotta start thinking about this!"  I definitely want to open up a store here in New York and do e-commerce on my website.
(Image courtesy of Bravo)
For more The Fashion Show Links visit Sirlinksalot.net