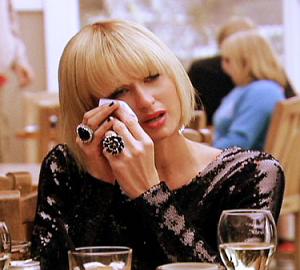 by Danae Young
This week on Paris Hilton's My New BFF, Paris invites everyone to the Santa Monica beach for a change of scenery. There are six people left but according to the house, there should only be five. No one likes David after last week and they are all shocked that he is still here. The moment they arrived at their hotel in Santa Monica, David went straight to the fridge for the alcohol.  The group goes out onto the beach to play some volleyball. Surprisingly, David is out there playing with everyone.
After some fun in the sun, the girls have to change into leather skin tight mini-skirts and heels and the boys put on kilts and army boots. They all meet Paris at the pool for some "School by the Pool." Their lesson this week is all about taste because we all know Paris cannot be seen with someone who has bad taste, especially her BFF.
First, the group was given choices such as firefighter vs. policeman and diamonds vs. cubic zirconia. However, that quiz was only a test for what was up next. Everyone was split into groups of two and given an extremely expensive two-seater car to drive to Malibu in. At their arrival, they find a bunch of paparazzi taking photos of them while they get out of their cars.
When everyone meets back at the hotel room, Paris is there to show them their paparazzi photos. Elena's photo wasn't exactly graceful but she still managed to keep her legs closed while getting out of the car which is most important. David had a little too much thigh action showing. Amanda had the best photos. Stephen also did a pretty good job. As for Tiniecia and Stefanie, their photos were less than impressive which lead to them being put up for discussion.
The pet torch was passed from Elena to Amanda followed by everyone going to Duke's in Malibu to chat about their most embarrassing moments. Paris showed a whole new side of herself when she began crying while telling a story about some of the things paparazzi has done to her reputation just with a little Photoshop.
That night to lighten the mood, Paris took everyone to Ecco, a hot club in Hollywood. The entire night David was too busy talking to Paris's boyfriend, Doug. To make matters worse, he then left to go to the bathroom to throw up. That's when Paris decided he was also going to be up for discussion at elimination.
The next day, Tiniecia and David got into an argument again. Even though what David did the night before at the club was wrong, Tiniecia and all of her confrontations are starting to get incredibly annoying.
Later that night at elimination, David, Tiniecia, and Stefanie were all up for discussion. Paris and Stefanie really connected this week so Paris definitely kept her. As for Tiniecia, she has a pretty intense attitude and sometimes Paris thinks it might be too much for her. However, it is not enough to eliminate her this week. Paris says TTYN to David for being such a tool. And just to add frosting to the cake, David leaves the house "walking to out." TOOL!
It's down to the final five, who will go home next week?
Watch all new episodes of Paris Hilton's My New BFF, Tuesdays at 10pm ET/PT on MTV.
 
(Image courtesy of MTV)