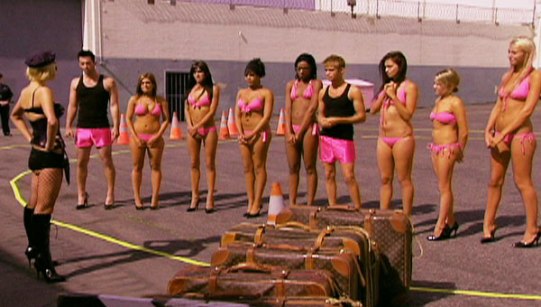 By Danae Young
This week on Paris Hilton's My New BFF, the jail birds learn from their mistakes. Onch opens the door to two cops that barge into the mansion and rudely wake up everyone. They all get into a van without getting ready and show up at a jail. They are all given pink silk pajamas to put on followed by mug shots and finger printing. Everyone is split into groups of two and put in jail cells. However, there is an odd number so lucky Nicole gets to have her own cell. It's no surprise when she starts complaining that she has no one to hang out with in her cell.

Paris shows up in some sexy cop outfit and talks about how horrible jail was the 27 days that she was there. She then removes the pet necklace from Stefanie's neck and gives it to her new pet, Elena. Both Stefanie and Elena get one on one time with Paris to gossip.
Everyone put on pink bikinis and black stilettos, except for the boys who had to wear pink booty shorts and black tank tops. And yes, they wore the stilettos as well. They made their way outside to their first challenge, Carry-On Luggage Sprint. The point of this challenge was for everyone to have a piece of luggage and race through the obstacle course. Stephen did an awesome job and beat all of the girls while wearing the stilettos. The next challenge, Let Your Hair Down, involved two people at a time racing to climb the rope to "save Paris." Afterwards was the best challenge of the day called Haterade Darts. This challenge revealed a hilarious poster of Katie's face with a target over it. The point of the challenge was for everyone to put their stiletto into a color of paint and throw it at the target. There were three winners for the entire day-Stephen, Tiniecia and Amanda.

Later, Stephen gets some one on one time with Paris so she can get to know him better. Once they finish, everyone puts their pajamas back on and are given jail food in the cafeteria with only 10 minutes to eat. Of course the food is disgusting and almost everyone, except for Stefanie, seem to be grossed out by the food.

After their gourmet meal, each person is brought in to an interrogation room one by one to have a talk with none other than Three-6 Mafia. The guys try to figure out who is real and who is fake in the house. The three people they didn't trust the most were Desirae, Nicole and Kaitlin so they were all up for discussion at elimination later that night. Desirae was up there because Three-6 Mafia felt like she was more capable of being a body guard than a BFF. As for Nicole, she knows a lot about Paris, possibly too much, which makes to come off as more of an obsession. Kaitlin is up for the same reasons as usual, nobody trusts her, including Three-6 Mafia. In the end, Paris said TTYN to both Nicole and Kaitlin. Everyone was happy to know they were being released from jail and sent back to their Beverly Hills mansion.

Watch all new episodes of Paris Hilton's My New BFF Tuesdays at 10pm ET/PT on MTV.
(Photo courtesy of MTV)
For more Paris Hilton BFF 2 Links visit Sirlinksalot.net