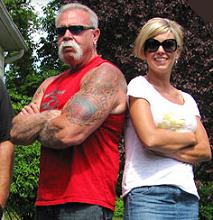 by Gina Scarpa
It's a very special crossover episode on tonight's Jon and Kate Plus 8.  The guys from American Chopper are paying the Gosselin family a visit.  It seems that the show is running out of ideas for episodes since random celebs just happened to start dropping by in recent times.  Cue the Teutul family, who conveniently happen to have their own show on TLC, which airs Thursday nights.  Thank you Jon for pointing that out for us! 
Jon heads off for a little man time while Mikey stays behind to help Kate with the kids.  A man who wants to take the time to lend a hand with her and the little munchkins?  Oh, you know she's not turning that down.  It's not all work for Kate, though.  She gets to take a ride on Paul Sr.'s bike and makes sure to tell him he's sweaty before they ride off into the sunset together.  The Teutuls and the Gosselins sit together in the yard for a little arts and crafts with the kids and it seems like a fun time for all… very glittery.
Jon heads to the OCC shop to get to work on the bike that he's been dreaming about.  Either he knows a lot about bikes or he's good at taking direction.  Either way, it's pretty cool to work side by side with Paul Sr. on your bike.  How many people can say they've done that?  Jon's not a selfish guy, though.  Not only did he bring back a bike for himself but he brought a cute little pink one for his wife.  She decided quickly that she didn't want to keep the bike - she'd rather donate it to charity.  She couldn't help but take one little spin around the neighborhood though, before parting with it.
Best Moment: Kate taking Mikey for a makeover!  You gotta love a guy whose up for anything.

Jon and Kate Plus 8 airs Monday nights at 9pm ET on TLC.
(Image courtesy of TLC)
For more Reality TV Links Links visit Sirlinksalot.net