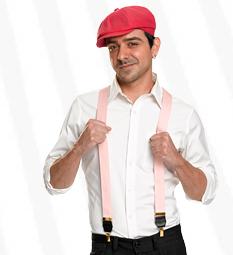 by Gina Scarpa
Andrew Christian started off as a strong contender to win The Fashion Show but he proved this week that one little slip could get you sent home.  This week, the designers had to come up with an ensemble inspired by a pair of fabulous shoes.  Following the runway show, Andrew found himself in the bottom two, alongside Lidia.  Host Kelly Rowland told him that one audience member called his design "uninspired" and the judges decided to send him home.  Today, he spoke to RealityWanted in an exclusive interview about why he didn't need to be on the show at all and whether or not he stole Daniella's idea for his design.
Q. Gina, RealityWanted: What was your design experience prior to The Fashion Show?
A. Andrew: My design experience is having launched a successful clothing company.  I founded Andrew Christian in 1997, and found my niche in the men's underwear market. I am the king of the men's fashion underwear world which is why I have been referred to as the Panty Christ. My clothing is sold world wide on every continent except for Antarctica. However, the polar fleece collection is coming soon to capture that market… just kidding.
Q. Gina, RealityWanted: How did you come to the decision to try out for the show and what were you hoping to get out of it?
A. Andrew: Unlike the other designers, I did not need to compete on The Fashion Show.  I wanted to. I am the most successful of all the designers that are on The Fashion Show. I wanted to change America's perception about me and show them I can design much more than just underwear.
Q. Gina, RealityWanted: What designers on the show stood out to you? Whose work did you like?
A. Andrew: Angel really stood out to me, she is extremely creative and inventive with her design. James-Paul is also very talented and has his own design aesthetic.
Q. Gina, RealityWanted: Do you think that having to work in teams for the first 3 elimination challenges hurt you at all?
A. Andrew: I think working in teams for the first 3 challenges definitely created some tension and alliances that worked against me. In the real design world, you have to work with others and put your differences aside to accomplish the task at hand. I don't think the other designers have had much experience with this and know what the real world is like.
Q. Gina, RealityWanted: There was a debate last week over whether or not you took Daniella's idea for your design. What is your side of the story?
A. Andrew: This allegation is totally false. First of all, the initial sketch and concept was mine, and the execution was all Andrew Christian. I wanted my jacket to have a real functional surprise and I think the retractable hood was a strong concept. I don't see how I could have stolen Daniella's idea if she was team leader.  Sounds to me like she is sore loser because she didn't win this challenge.
Q. Gina, RealityWanted: You seemed surprised that you were eliminated on last night's episode (as was I). Who did you expect to see in the bottom two or get eliminated?
A. Andrew: I was definitely surprised that I was eliminated as George was on my side and defended my design. I just don't see how I was eliminated over  a dress that looked like "The Nightmare Before Christmas".   I think Lidia should have gone home.  Consistently, her designs have been weak. I received positive comments from the judges on the first three episodes for my designs. It just doesn't add up.
Q. Gina, RealityWanted: What do you think was the biggest problem with your design? Would things have been different if you had more time to work on it?
A. Andrew: I don't think there was a problem with my design. As I said during panel, when I design, I always think about hanger appeal, fit, and saleability. I think a big portion of American women would love to wear my design. George also said he had clients that would wear my design.
Q. Gina, RealityWanted: What is in the future for you? Anything new and exciting?
A. Andrew: The future is good for me. I just released my line of bamboo fiber underwear that is doing phenomenally well. It's eco friendly, moisture wicking, antibacterial, but most of all it's super soft. I am also introducing the Andrew Christian Black label for fall. These are all of the items you see me wearing on The Fashion Show. They are a bit more dressy than my usual sportswear line, but still
have an edge to them.

The Fashion Show airs Thursdays at 10pm ET on Bravo.
(Image courtesy of Bravo)
For more Fashion Show Links visit Sirlinksalot.net