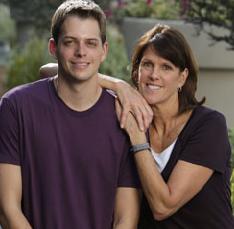 by Gina Scarpa
Last night, The Amazing Race came to a heartbreaking conclusion for mother and son team, Margie and Luke.  They started the last leg in second place but quickly lead the pack through two tasks.  When they stopped at a road block, Luke felt he had the challenge in the bag.  Teams had to search through surfboards, find symbols that represented each leg of the race, and place them on a fence in the correct order.  It seemed Luke would easily complete the challenge but he got stuck on the last symbol and it cost them the race.  Margie and Luke finished the race in third place and today, spoke to RealityWanted in an exclusive interview about their experiences on the show.

Q. Gina, RealityWanted: Whose idea was it to try out for The Amazing Race?
A. Margie: It was totally Luke's idea.  He started watching the show when he was 16, the first season.  He had applied with a girl from college, a deaf girl.  We also applied for the family show.  We got a callback and they said we wouldn't be right for this season.  CBS sent an email and said that they liked Luke but it would be hard to have two deaf people.  Luke asked me to do it and I said, "Sure I'll do it."  I hadn't seen much of the show.
Q. Gina, RealityWanted: Any reservations about going into the race, because Luke is deaf?
A. Margie: Not really. 
A. Luke: It was not awkward for me.  It might be awkward for other teams.
A. Margie: Luke and I have communicated our whole life.  It was no problem.  That's just how our life is.
Q. Gina, RealityWanted: You formed an alliance with Jaime, Cara, Tammy, and Victor on day one.  Was there ever a time that you considered racing alone or did you want to stick with them through the entire race?
A. Luke: Oh no, we absolutely wanted to stick with Jaime and Cara and Tammy and Victor all the way to the end.    
A. Margie: We had so much respect for Tammy and Victor and Jaime and Cara as racers and as people.  That first night, when we shared the pizza, we said, "This would be so cool if this was the final three."  There was no backstabbing, there were no broken promises. 
Q. Gina, RealityWanted: Margie, you were a physical force to be reckoned with this season!  Did you work out prior to coming on the show?
A. Margie: I've always worked out, not excessively or anything.  I run 2-3 miles a couple times a week.  I go to the gym… not now as often as I should.  We do a lot of outdoor activities and we live at about 8,000 feet so that helped.  I surprised myself on the race.
Q. Gina, RealityWanted: We saw the two of you clash with Jen and Kisha.  How do you feel about that, looking back on it?  Was that just the heat of the moment on the race?
A. Luke: Absolutely the heat of the moment.
A. Margie: There's so much that you don't see and that they don't have time to put in.  The night before the incident, we slept outside, in the rain, on top of a mountain.  It was a miserable night.  I think everybody was just exhausted.  Luke and I were getting on each other's nerves.  If it had happened on a day when we were more rested, I think it would've been much less of an incident.  We've apologized and Jen and Kisha have apologized.  We have nothing but respect for them.
Q. Gina, RealityWanted: Though you got along with many of the teams on the race, it seemed that your relationship with Jaime and Cara was special.  Can you talk a little bit about your relationship with them?
A. Luke: The first day that we met on the race, I felt a real connection with jaime and Cara.  They were willing to write notes and learn the ASL alphabet.  I just knew that they would be a supportive team.  Sometimes, they might write notes and they wanted to keep me included in the conversation.  Mom did a great job but they were awesome in including me.  If Mom and I couldn't win, I was hoping Jaime and Cara would win and they hoped the same thing for us.
Q. Gina, RealityWanted: I know it was hard for you to come in third in the race.  How do you feel about it now that you've had some time since the race ended?
A. Luke: It's still hard for me because it was a big dream to be on the show and of course, I wanted to win ever since I was 16 years old, I wanted to be on the show and win.  I actually never thought we'd get on the show.  I had applied so many times.  I was worried we'd be the first team eliminated and then we ended up winning the first leg.  Then I realized it was a possibility - maybe we could do it.  From the beginning to the end, we were always in the top four.  On that last leg, we finished the pig race first, the jet skis first, but that last challenge, the pictures were confusing. 
A. Margie: It's hard to watch.  Sitting there last night, in a large group of people and having to watch that all fall apart… our family was there and they didn't know whether we had won or lost.  We were worried about our family.  It was just a very, very emotional night.
Q. Gina, RealityWanted: What's in the future you, more traveling perhaps?
A. Luke: I'm hoping to go on The Amazing Race: All Stars!
A. Margie: I travel for my job so my ideal vacation is staying home and relaxing!
(Image courtesy of CBS)
For more Amazing Race Links Visit Sirlinksalot.net